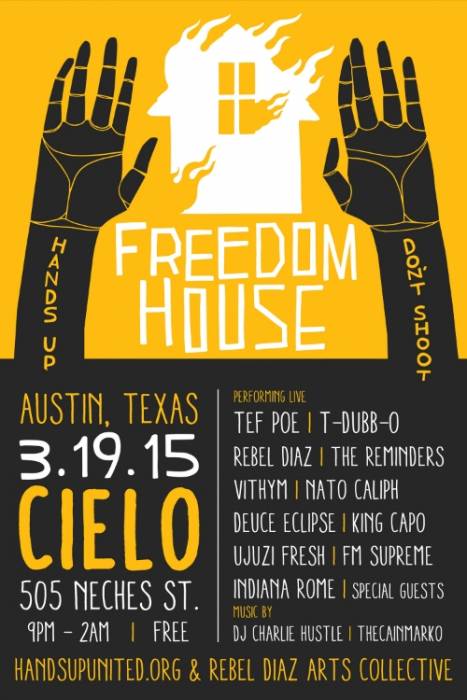 Bringing to the forefront some of the leading artists who have been on the front lines in the streets and in the struggles in Ferguson, The South Bronx, Chicago, Milwaukee and beyond The Freedom House Showcase aims to provide a space for liberation and protest music. Brought to you by Hands Up United and Rebel Diaz Arts Collective, this powerful showcase aims to unite the movement that has been set ablaze after the killing of Mike Brown.  Just when you thought the party at Austin was getting too corporate, #FreedomHouse will inspire festival goers to stand up, speak on issues and party at the same time.
We don't do music for the movement! This is the movement doing music!
Performing Live:
Tef Poe ( St Louis )
Rebel Diaz ( The Bronx/Chicago )
T Dubb O ( St Louis )
The Reminders ( Colorado)
FM Supreme (Chicago)
Deuce Eclipse ( Oakland)
Vithym ( The Bronx)
Nato Caliph
King Capo ( Brooklyn/ DominicanRepublic )
Ujuzi Fresh ( Milwaukee)
Indiana Rome ( St Louis)
plus SURPRISE GUESTS!!!
On the 1s and 2s:
DJ Charlie Hustle ( Milwaukee/The Bronx)
THECAINMARKO (Newark,NJ)
Where: CIELO 505 Neches St. Austin, Texas
When: Thursday March 19th 9pm-2am
© 2015, Eldorado2452. All rights reserved.