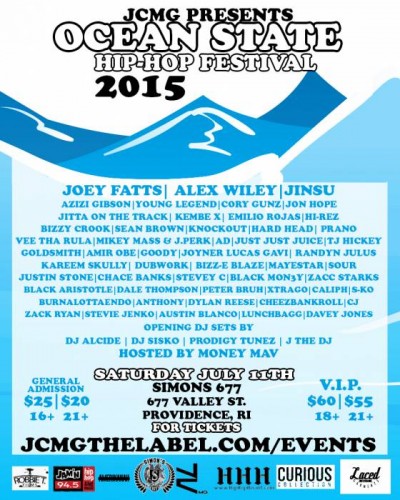 JCMG is pleased to announce the date and official lineup of their first annual festival coming July 11th. The festival looks to be a solid one with a jam packed line up filled with artists such as Joey Fatts, Bodega Bamz, Alex Wiley, Bizz-E Blaze, Cory Gunz, Azizi Gibson, Amir Obe, Jinsu, Bizzy Crook and many more. A festival for all you hip hop heads out their as July 11th in Providence, Rhode Island will certainly be an experience to take in as well as just the start of whats to come from this annual festival. This is an event for all that are 16+ so come out and enjoy yourself. Get your tickets below in advance as you do not want to miss out on this event!
Location: Simons 677 – 677 Valley St. Providence, Rhode Island.
Event Time: 3PM-12:30 AM
Get your tickets HERE.
© 2015, SpratFool. All rights reserved.