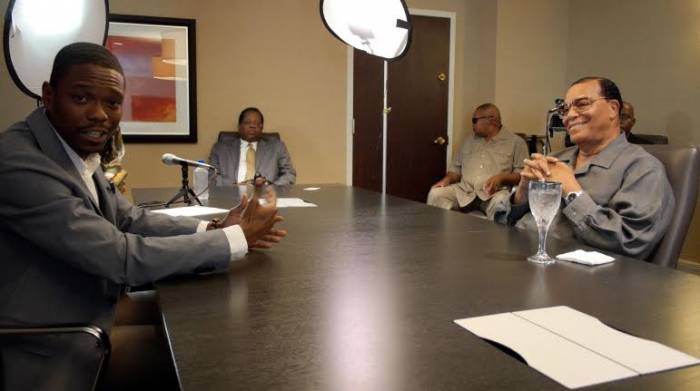 Listen up HHS1987 supporters. It's time to turn your ears from the music, and gain some knowledge from a true revolutionary. Our own E-Money and special guest Tahirah Akilah had the opportunity to sit down with The Honorable Minister Louis Farrakhan to discuss the issues that directly affect Black communities from the past to the present. In this era of social media and the exposure of police brutality and systematic oppression, many are looking for a specific leader to take charge and bring us together.
It has always been a tradition in the Black community that we look to our elders for guidance without persecution or slandering of what our generation is, or isn't doing. The Honorable Minister Louis Farrakhan and The Nation Of Islam has embraced Hip-Hop for many years and has been at the forefront of speaking to it's biggest stars to guide them in the right direction to help save the people and preserve our culture. Sometimes this has come as a detriment to his campaign, as his character and intentions have been misconstrued in the media, which has led to him not being able to spread his messages to the youth at HBCU's and high schools throughout the country.
In his interview with us, he touches on many issues surrounding us presently such as drugs being filtered into the ghettos, building private prisons (which are meant to be filled with the ghetto youth who sell the drugs) and the overall war on the Black community through propaganda in film and television images. Throughout the hour-long interview, we are able to gain an in-depth look into how the minister feels the Jewish media has been aiming to emasculate and feminize Black men and degrade Black women, and the influence they have on our everyday lives.
He also touches on the legacies of both Malcolm X as well as Dr. Martin Luther King Jr., who he believes was much more than just a dreamer. The minister expresses his belief that in order for the Black community to be able to truly gain financial stability we must invest in land and produce our own crops from that land, and cease funneling money into the pockets of those who don't give back.
The Minister will be celebrating the 20th anniversary of the Million Man March to Washington, D.C. on October 10, 2015 with the slogan "Justice Or Else," to bring his message to the forefront once again for a new generation. Take some time to listen to The Honorable Minister Louis Farrakhan below, as he gives us some great advice along with a bit of history and solutions moving forward to not only help this generation, but generations to come.
© 2015, Oktane. All rights reserved.