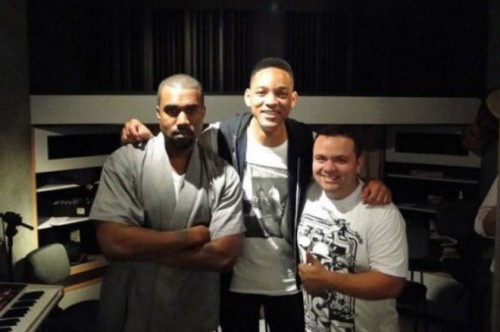 Before Will Smith became one of the world's greatest actors, he was "The Fresh Prince" decked out in the fliest flight suits you've ever seen & owned every pair of retro Jordan's. That was back when he was Gettin' Jiggy With It in Miami with his best friend, DJ Jazzy Jeff. His rhymes definitely resonated within Hip-Hop.
Word has it that Will Smith is contemplating pulling a LL Cool J on us & stepping back in the lab again. We haven't heard any new material from him since his 2005 release, Lost & Found, but I suppose he's gained new inspiration from his 2 children who are taking the music game by storm right now.
The Guardian reported that Will Smith has been in the studio with a Hip-Hop icon; that being Kanye West. Smith confirmed:
I went into the studio with Kanye [West]," he says at a screening of his new film, Focus. "I'm thinking about it. I'm exploring.
He also let us know that he's been taking pointers from his son, Jaden Smith, who not too long ago let go of a new body of work. He's been helping him with his writing techniques.
My son tells me I have to write out the things I don't like.. I can't write and stop. I have to keep going and going and write them out. I've never worked like that before but I think I might give that a shot.
It seems as if all the pioneers of this game want to leave their one last mark on it. Let's see if he still got it..
Sidenote: Kanye West has been the topic of COUNTLESS discussions lately. Not too bad for someone everyone hates, huh?
© 2015, Niyah Nel. All rights reserved.