YG clearly has some hardcore fans over there on the West Coast who are truly pissed off about his debut album, My Krazy Life, being snubbed out of a Grammy nomination. So what's the best way to show the Grammy's that they made a huge mistake? Boycott. Well, in this case, "bicket".
Fans of the Compton emcee circled in front of the Grammy Museum in Los Angeles with their protest signs chanting "YG, Why not?". Some of the signs read "Honk for YG!", "Bicketing for YG 2014 best rap album", & "BRUH!" (lol). Even the kids got involved! They took it even further & entered the building with their boycotting, but that was short-lived as the security sent them back outside & closed the doors on them.
Those who passed by & witnessed the happening took out their phones to catch  live footage the trolling, that being probably the funniest thing they saw all day.
YG got news of the "bicketing" & took to Instagram to show some love to his fans.. & let the world know he did not plan the boycott: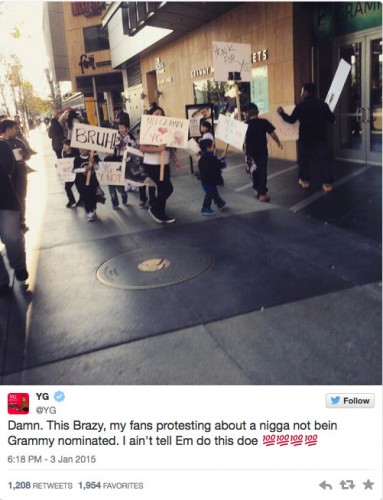 This event earned the hashtag "#bicket" via twitter. Now you see what happens when you're not "bickin back being bool?". Haha.
© 2015, Niyah Nel. All rights reserved.