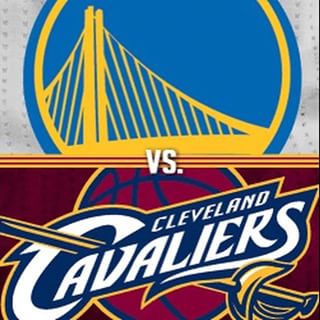 We've waited long enough (it was actually the longest layoff yet between the conference & NBA finals) but finally the NBA Finals tip-off tonight! The Golden State Warriors, the #1 seed in the West with a 67-15 season record (39-2 at home), will take on the Cleveland Cavaliers, the #2 seed in the East with a 53-29 season record (31-10 at home). The Warriors and Cavaliers split their 2 game series during the regular season. Below we have our NBA Finals preview & prediction to get you ready for the games.
Golden State Warriors: Coached by Steve Kerr (1st year 67-15).
Starting Lineup:  Steph Curry PG, Klay Thompson SG, Harrison Barnes SF, Draymond  Green SF/PF, Andrew Bogut C.
Notable Bench Players: Festus Ezeli C, Shaun Livingston PG, Leandro Barbosa SG, Andre Igoudala SG/SF. C Marreese Speights.
Preview: Steph Curry (the MVP of the regular season) led the Warriors to one of the best seasons in NBA history this year. Their 67-win season is among the top-10 regular season records in NBA history and 7 of those other teams went on to win the NBA championship. The Warriors, according to elo rankings (a measure of game-by-game performance over the course of the season), ranked 4th all-time this season. You know who were the top three teams? The 1986 Boston Celtics and the 1996 AND 97 Bulls, all of whom won the NBA title. So things are looking really good for Golden State headed into the finals. Beyond Curry, who is already one of the best shooters in NBA history, Klay Thompson had himself his first true all-star season. In the rare instances Curry is having a bad night shooting; Thompson is capable of carrying the team as well. Draymond Green has evolved into a better NBA player than I ever imagined and is on the verge of stardom himself. Harrison Barnes has blossomed under coach Kerr and is starting to live up to his potential. C Andrew Bogut has finally stayed healthy enough this season to help anchor the Warriors defense. The bench is very deep with players like Andre Igoudala and Marreese Speights (cleared to play after missing the conference finals) capable of scoring and starting for many other teams in the league. PG Shaun Livingston has carved out a nice role for himself in the league especially after a devastating injury. The Warriors want their historic season to end with an NBA title, and they're in a nice position to do so.
Finals X Factor:  Draymond Green. I think the Warriors will go with Harrison Barnes guarding LeBron to start, but Green's defensive versatility will have him seeing time guarding LeBron as well. When Green isn't guarding LeBron, he'll likely be guarding Tristan Thompson who is a beast on the glass. Draymond was runner up for the defensive player of the year & most improved player award & if he wants to see his career continue to rise and earn a big contract, he'll have to play well in these finals.
Cleveland Cavaliers: Coached by David Blatt (1st year 53-29)
Starting Lineup: Kyrie Irving PG, Iman Shumpert SG, LeBron James SF, Tristan Thompson PF/C, Timofey Mozgov  C.
Notable Bench Players: Matthew Dellavedova PG/SG, James Jones SF, Shawn Marion SF/SG, JR Smith SG.
Preview: The Cavaliers are led by LeBron James, whom many believe to be the best player in the NBA and LeBron also thinks he's playing the "best basketball of his career". He's doing a lot for the Cavs this postseason, but I think he's doing too much. With Kevin Love out for the playoffs and Kyrie nursing an injury, LeBron has shot the ball a lot and is shooting just 42.8 overall and 17.6 from the three. He's also getting to the line less often than before. So while he may think he's playing great, he's not as efficient as he's previously been. Kyrie Irving is nursing a knee injury and he says there's no way he'll be 100% for the finals. There are also rumors that since he isn't recovering quickly enough, he may miss a game or two this series (I think he'll play). PF/C Tristan Thompson entered the starting lineup during the playoffs and has been an absolute spark for the Cavs. Thompson has always been a good defender, but it's his focus on rebounding that has propelled him since Kevin Love went down. While Thompson can't shoot nearly as well as Kevin Love, and isn't as good offensively; Thompson fights for every single rebound (something Love doesn't always do). C Timofey Mozgov has made a difference for Cleveland since being traded from Denver midseason. Former Knicks Iman Shumpert and JR Smith have also played well since joining the Cavs. Shumpert will likely be asked to stop Curry and Thompson at different times defensively for the Cavs and will need to have a great series on the defensive end. The Cavs even with LeBron playing his best will have a tough road ahead of them.  Given this team's current roster vs. the roster of the Warriors, LeBron will truly need an historic playoff performance to have a chance to win.
Finals X Factor: Matthew Dellavedova. The undrafted 2nd year player out of St. Marys (via Australia) has had a bigger role so far than many people ever imagined he would in the NBA.  With not knowing just how injured Kyrie is, Dellavedova could be needed in these finals and could be the teams' surprise star. Dellavadova is a high energy, very aggressive player who is solid both defensively and offensively. Dellavedova likes contact on the defensive end and if Kyrie is not 100% the Cavs will likely use Dellavedova a lot in certain situations in these finals.
Prediction: Warriors beat the Cavaliers in 5 games. The Golden State Warriors are just flat out the more talented team with a deeper roster. Even if the Cavaliers had a healthy Kevin Love & Kyrie Irving in this series, I'd still pick the Warriors (in 6 or 7). So without Love and with a "just how healthy will he be" Kyrie, the Warriors will continue their historic season and capture the franchise's first NBA title since 1975.  Also while I like and respect David Blatt, Steve Kerr is by far the better of the two coaches (and the one whose players always listen to him).  LeBron is making his 5th straight NBA Finals appearance which given how weak the Eastern Conference has been in recent years, isn't as impressive as it looks. He will end the series with a 2-4 NBA Finals record which should end the silly discussion of is he/can he be the greatest ever (Nope that's still Jordan).
Hiphopsince1987's own Eldorado also has the Warriors winning in 5 games (great minds do think alike apparently).
TV Schedule (All games EST & on ABC)
Game 1: Thurs June 4th: Cleveland at Golden State 9 PM
Game 2: Sunday June 7th: Cleveland at Golden State 8 PM
Game 3: Tuesday June 9th: Golden State at Cleveland 9 PM
Game 4: Thursday June 11th: Golden State at Cleveland 9PM
Game 5: Sunday June 14th: Cleveland at Golden State  8PM (If necessary)
Game 6 Tuesday June 16th: Golden State at Cleveland 9PM (If necessary)
Game 7: Friday June 19th: Cleveland at Golden State 9PM (If necessary)
© 2015, JustinBurkhardt. All rights reserved.