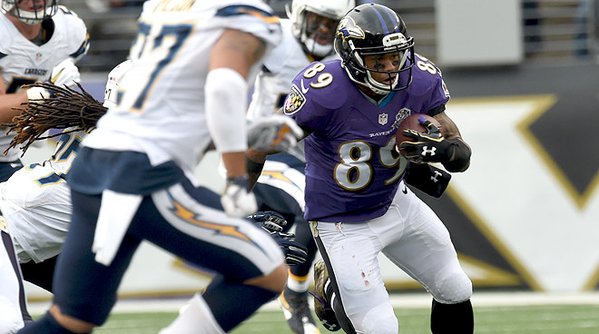 Tough day during week 8 of the 2015 NFL season. Today, two of the NFL's best players at their respect positions were injured and will be gone for the remainder of the year and they both happen to be in the AFC North.
Pittsburgh Steelers running back LeVeon Bell and Baltimore Ravens wide receiver Steve Smith were both injured on Sunday and will both miss the remainder of the season. Bell suffered a MCL injury and Smith suffered an torn achilles.
Steve Smith gets carried off the field by two members of the training staff. He was putting no weight on his right leg.

— Baltimore Ravens (@Ravens) November 1, 2015
Harbaugh: Steve Smith has suffered an achilles tear and will be out for the rest of the season. — Baltimore Ravens (@Ravens) November 1, 2015
Steve Smith's shoe game = 🔥🔥🔥 pic.twitter.com/DDTek1M8X1 — Baltimore Ravens (@Ravens) November 1, 2015
#RavensNation luv u ,thank you for letting me be apart. Unfortunately I will be #iceupson Nite 😂😁😂😁 #agent89 pic.twitter.com/T2M3XUP7Vp — Steve Smith Sr (@89SteveSmith) November 1, 2015
The Le'Veon Injury … Not good https://t.co/5CMJrReYhd — uSTADIUM (@uSTADIUM) November 1, 2015
I appreciate the concern and support from everybody who's sent me txts, tweets, phone calls, etc…I'll be okayy, love youu all! #Juice — Le'Veon Bell (@L_Bell26) November 2, 2015
Stay tuned to HHS1987 for all your sports news.
© 2015, Eldorado2452. All rights reserved.