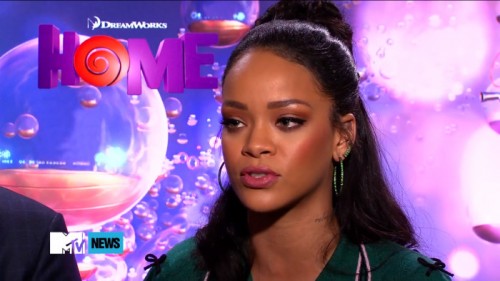 MTV caught up with Rihanna in the midst of her promotion campaign for her latest animated feature film, "Home".  In their sit down, she talked about her forthcoming project, R8, which is executive produced by Kanye West, & why it will be worth waiting for as well as her partnership with Dior.
Rihanna's previous records have all come to become international hits, which she is not unhappy about, but the music doesn't resonate for her anymore–she has grown as an artist. Her new music will define her growth & possess the timeless feel that she is now looking for when creating music. She wants more soul, more real, & more "forever" invested into everything she produces from now on. We've already gotten a bit of a taste of what she means with her latest single FourFiveSeconds, featuring Kanye West & Paul McCartney.
She also touched on he recent campaign with Dior & the significance behind it. It's important that women feel wanted & beautiful in their skin, so to represent something that brings out the beauty & elegance in a woman is honorable.
See the videos below.
© 2015, Niyah Nel. All rights reserved.