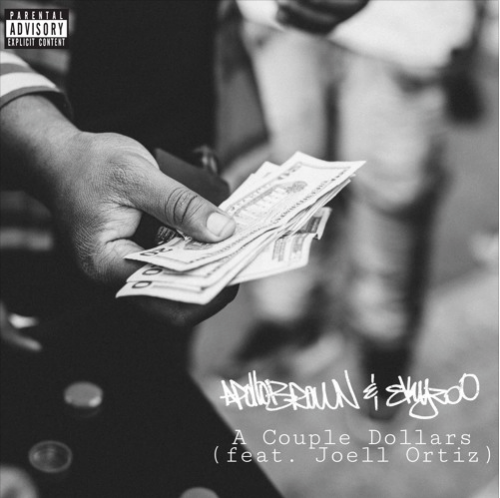 After years of mutual respect, circling each other in collaborations, tours, style and respect, two titans of their craft have finally collided in Apollo Brown & Skyzoo's The Easy Truth. The album is everything you've dreamt it would be: breakneck instrumentals and syllables crafted to make your head spin. The marriage between Detroit instrumentals and NYC wordplay has never been more cohesive. Themes range from police brutality to NY ambitions; Skyzoo shows you the world the way he sees it.
Recorded and produced in Detroit, The Easy Truth, is the perfect distillation of hip-hop influences. Every moment on the album is a loaded question, a perspective positing a notion of truth, the convergence of grit and symphony.
Joining the artists on the record are Joell Ortiz, Westside Gunn, Stalley, Conway and Patty Crash (who guested on The Roots single "Never"), a reciprocal band of guests that only add depth and richness to the duo's chemistry. Coming September 30th, The Easy Truth, is true to its titular description: honest, fluid, and organic.
Today, Complex premiered the second official single from The Easy Truth, "A Couple Dollars," which features special guest and Slaughterhouse member Joell Ortiz.  In addition, when you pre-order the upcoming album on iTunes or Bandcamp there is another bonus silent single "The Vibes" available today.
"For me, this record is a personal favorite of mine because of what it represents as far as my perspective. Coming up, I saw certain things in my neighborhood, which led to certain aspirations, which led to motivation of all sorts. This record is about how those things come about, and how they started in the first place, dating back 400+ years ago, as pointed out in the second verse. This song stands as another testament to who, what, when, where and why as far as how it is in my neighborhood". Skyzoo
"Always feels good to tell the story of my past and how it was growing up in my projects in Brooklyn. Reminds me where I came from. You need that reminder every now and then to keep you focused and sharp." Joell Ortiz
"This is one of my personal favorite joints on the album. Two of the best emcees in all of hip hop breathing life into the same track. They both give a relatable perspective of the wants and the needs in life. Call me biased, but the feeling of the beat was perfect for this song as well. It sounds beautiful like the truth." Apollo Brown
Listen below to Apollo Brown & Skyzoo featuring Joell Ortiz, A Couple Dollars.
© 2016, Niyah Nel. All rights reserved.