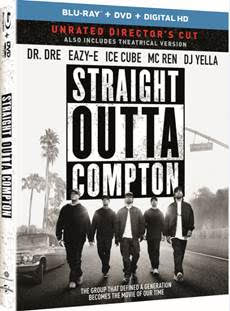 HHS1987's Eldorado and Universal Pictures have teamed up to give five people a chance to win a exclusive  "Straight Outta Compton" Blu-ray combo pack (DVD & Hat) to our audience in the Atlanta area.
In 1987, five young men, using brutally honest rhymes and hardcore beats, put their frustration and anger about life in the most dangerousplace in America into the most powerful weapon they had: their music. Taking us back to where it all began, Straight Outta Compton tells the true story of how these cultural rebels-armed only with their lyrics, swagger, bravado and raw talent-stood up to the authorities that meant to keep them down and formed the world's most dangerous group, N.W.A. And as they spoke the truth that no one had before and exposed life in the hood, their voice ignited a social revolution that is still reverberating today. The film stars O'Shea Jackson Jr., Corey Hawkins and Jason Mitchell, directed by F. Gary Gray and produced by Ice Cube and Dr. Dre. Additional information around the release can be found on the film's official website: www.straightouttacompton.com.
We are giving ten of our Atlanta readers a chance to win a FREE copy of the "Straight Outta Compton" combo pack by doing the following:
1.)Follow Eldorado2452 & @HipHopSince1987 and  Tweet @eldorado2452 your 'Top Five' tracks by NWA or NWA members

2.) Tag @Eldorado2452 in a Instagram clip of you rapping your favorite NWA track The contest ends Tuesday Jan 19th. Good luck.
The contest ends January 19th. Good luck!
© 2016, Eldorado2452. All rights reserved.