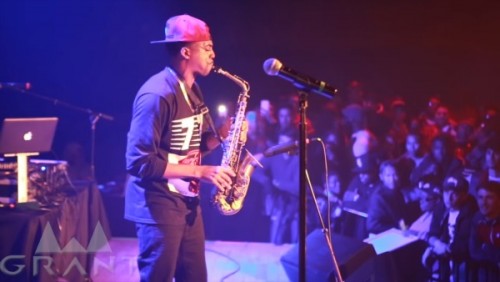 Last month, I traveled to Baltimore, MD to witness a show I was invited to by a popular upcoming artist named WishGRANTED. I must say, this guy has a lot of talent and is actually an incredible entertainer. I watched as Wish captured the attention of the crowd as soon as he hit the stage as if he was the headliner and was blown away. He is a jack of all trades when hitting the stage he raps, dances, plays the saxophone and more. Not to mention, his DJ Kay Money was pretty dope as he helped Wish carry through the performance. Below, there is footage of his stage show and after you can watch us catch up on the performance afterwards outside the venue. Wish gives us some background on what it took for him to get the point of where he is, touches on a newspaper he was covered by in Pennsylvania, and how serving in the Air Force has affected his career.
Peep the gifted performer do his thing after this!
Follow WishGRANTED:
www.WishGRANTedmusic.com
SoundCloud www.Soundcloud.com/wishGRANTedmusic
Twitter: @wishgranted_
Instagram: @wishGRANTed
YouTube: www.youtube.com/wishgrantedmusic410
Follow DJ Kay Money:
IG: @DJKayMoney
Twitter: @DJKayMoney
© 2016, Oktane. All rights reserved.