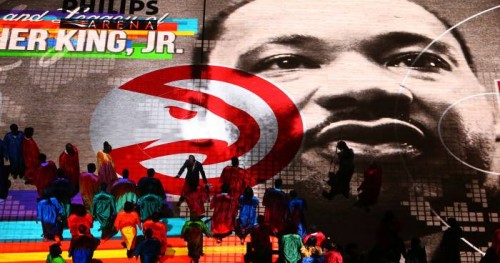 The Atlanta Hawks begin 2016 with the launch of True Comes In All Colors: Celebrating Black History.  Traditionally recognized in February, the Hawks will get a head start on highlighting Atlantans as an integral part of the rich tapestry of African-American achievement with events beginning in mid-January.  Major festivities will continue through early March.
True Comes In All Colors will serve as the umbrella diversity and inclusion campaign that will spotlight the cultural contributions of various ethnicities throughout the city.  The Atlanta-based National Black Arts Festival has been chosen to partner with the Hawks to help curate the story of how Black artists have had a profound transformational impact on America and the world.
"Celebrating the unique diversity of Atlanta is central to who we are and part of the authenticity of being True to Atlanta," said Steve Koonin, CEO of the Atlanta Hawks and Philips Arena. "We are honored to pay tribute to the contributions of African-Americans that help make Atlanta the heartbeat of the South."
The signature events for True Comes In All Colors: Celebrating Black History include:
·         1/18       MLK Basketball Classic 
·         1/21       MOSAIC: Race & Gender in Sports
·         2/19       True To Atlanta Community Award Presentation
·         2/26       Hawks Mean Business Networking Series
Martin Luther King Jr. holiday weekend will kick off the Black history activities with the Hawks' annual MLK Classic on Monday, Jan 18.  The Georgia Power-sponsored youth basketball tournament will bring out nearly 100 5th through 8th grade student-athletesfrom the Park and Recreation leagues of the City of Atlanta and Fulton County. Participants are selected based on performance on the basketball court, in the classroom, and demonstration of solid citizenship and good behavior.  That evening MLK Classic students are invited to attend the Hawks versus the Orlando Magic game at Philips Arena.  
The cornerstone of the Black History celebration is the inaugural MOSAIC: Race & Gender in Sports event. The half-day symposium will include lively conversational pairings including NBA All-Star and Hawks Board of Directors Vice-Chair Grant Hill and former corporate consultant to MLB and numerous Fortune 500 companies, Janet Hill.  In this rare speaking engagement, Mrs. Hill  and her son Grant will discuss the evolution of their careers in sports and how race and gender served as both opportunities and challenges as they ascended to the top of their fields. The newly-formed Model Of Shaping Atlanta through Inclusive Conversations (MOSAIC) will be an on-going vehicle for the Hawks to facilitate meaningful and actionable dialogue on various facets of diversity and inclusion in the city.  Hosted by DeMarco Morgan, CBS national news correspondent and former Atlanta news anchor, the day will also feature author/activist Kevin Powell, Troy Vincent, EVP – Football Operations, NFL,  Oris Stewart, Chief Diversity Officer, NBA and Amy Wilson, Director, Gender Inclusion, NCAA.  The invite-only event will be held on Jan. 21 at the Center for Civil and Human Rights.  
Nzinga Shaw, Chief Diversity and Inclusion Officer of the Atlanta Hawks said, "As diversity leaders in the sports industry, it is imperative that we underscore the necessity to bridge the racial and gender divide through peaceful discussions in which multiple stakeholders have the ability to voice their opinions, concerns and solutions. While all issues will not be solved at once, MOSAIC can serve as a catalyst in our ability to progress and truly become a unified city."
Philips Arena will be the site of in-game recognition of Atlanta's African-American visionaries past, present and future.  Reaching across sports, culture and business, home games throughout February will showcase art displays, live performances and more that highlight remarkable past accomplishments of civic icons and today's trailblazers destined for the history books.
© 2016, Eldorado2452. All rights reserved.