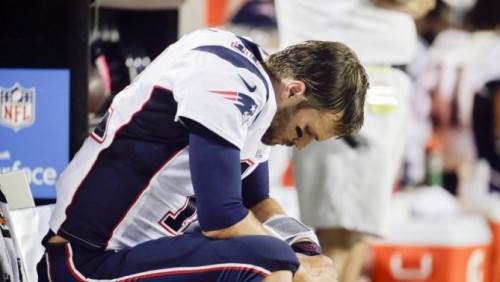 New England Patriots quarterback Tom Brady has decided to stop fighting the good fight and face his four game "Deflategate" suspension. Late Friday afternoon, Tom Brady took to his Facebook page to announce that he would "no longer proceed with the legal process" to overturn his four game suspension.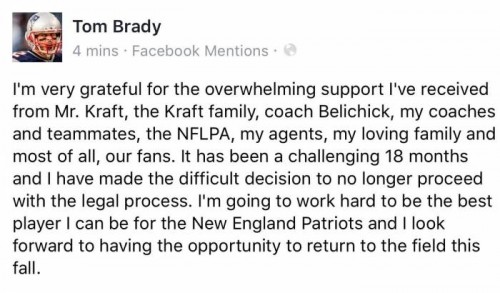 Patriots QB Tom Brady now will miss the first four games and return in week 5 against…the Cleveland Browns.

— Adam Schefter (@AdamSchefter) July 15, 2016
According to ESPN, 
The 2nd U.S. Circuit Court of Appeals in Manhattan rejected Brady's latest appeal of the suspension Wednesday, meaning that his last hope to avoid serving the suspension would be to appeal to the Supreme Court.

"While I was disappointed with the 2nd U.S. Circuit Court of Appeals' decision not to rehear Tom Brady's case, I am most frustrated that Tom was denied his right to a fair and impartial process," New England Patriots owner Robert Kraft said in a statement Friday. "The league's investigation into a football pressure matter was flawed and biased from the start, and has been discredited nearly unanimously by accredited academics and scientists.

"The penalty imposed by the NFL was unprecedented, unjust and unreasonable, especially given that no empirical or direct evidence of any kind showed Tom did anything to violate League rules prior to, during or after the 2015 AFC Championship Game. What Tom has had to endure throughout this 18-month ordeal has been, in my opinion, as far removed from due process as you could ever expect in this country."

Although Brady indicated that he has dropped out of the appeal process, the NFL Players Association said in a statement that it still might petition the ruling to the Supreme Court.
Now that the "Deflategate" saga is over, the first four weeks in Patriots Nation will belong to quarterback Jimmy Garoppolo. Stay tuned to HHS1987 for more NFL news. Follow @eldorado2452 on Twitter and Instagram for all your sports news.
© 2016, Eldorado2452. All rights reserved.