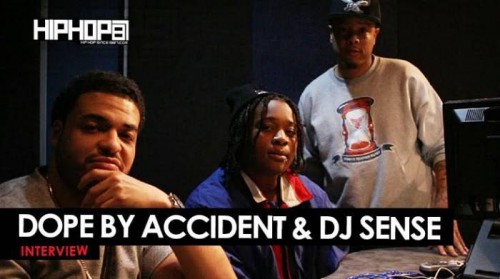 Memphis native Dope By Accident has been a student of the music game for some time and it seems like her time is now. Over the past 5 years, Dope By Accident has been studying the game and learning from music vets Polow Da Don, Missy Elliott and Timbaland and her journey has led her to where she is now, working with DJ Sense and the Academy.
For years, DJ Drama, Don Cannon and DJ Sense have been discovering talent and introducing talent to the game and this is no different. DJ Sense spoke on being introduced to Dope By Accident by Monica's manager Mario and how the chemistry was instantly there. Dope By Accident has written music for Monica, Chris Brown, Usher, Beyonce and many others but now she is writing her own hits. DJ Sense spoke on working with great talent from the beginning (Jeezy, T.I., Lil Wayne), and seeing that greatest in Dope By Accident.
Dope By Accident and DJ Sense have teamed up for their new single "Sense City" which is quickly heating up the club scene and after the cosign from Don Cannon, Dope By Accident known it was time to get the record out.
2016 is set to be a huge year for Dope By Accident. With performances in Austin at SXSW 2016 in March, more writing from some of today's top artist and her own debut project all in the works, Dope By Accident will be busy this year and we'll be watching her next moves closely.
The interview was conducted by Eldorado (Terrell Thomas). The interview was shot by Danny Digital.
Follow On Twitter/Instagram:
@DopeByAccident
@DJSense/ @TrendsetterSense
@Eldorado2452
@HipHopSince1987
@DannyDigitall
© 2016, Eldorado2452. All rights reserved.