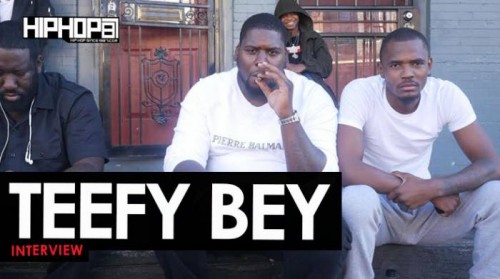 Teefy Bey, CEO of Do4Self Records talks to HipHopSince1987's Rick Dange in this exclusive interview. Teefy explains to the camera who is Teefy since the internet and the people want to know. He also explains his relationship with Meek Mill and the entire Dreamchasers. Teefy also explains the night Meek Mill, Omelly, Tak and Beans recorded "OOOUUU Remix" dissing The Game. He was the one who encouraged Omelly to diss The Game. He explained that Beans role in the studio was not to write for anyone, he was there giving advice, and basically snuck on the track.
Teffy also clarifies the rumor that Game was not at Max's on Erie ave getting a cheesesteak. Teefy also confirms the rumor about Beanie Sigel getting beat up the night of the Bad Boy Reunion concert stop in Philly. He goes into details about Beans backdoor'ing the hometeam for The Game, among other issues he couldn't speak on camera about.
Teefy also explains his relationship with AR-AB, who recently had beef with Meek Mill. Teefy mentions putting money in Ab pocket when he came home off the respect of him being a top rapper in the city. He denies ever receiving a dollar from Meek Mill despite Ab's "you pay Teefy weekly" rap lyrics that was directed at Meek.
Before concluding the interview, Teefy explains what's next for his company, Do4Self and more. He also explains how they talked to Wack and try to iron things out but Beans backdoored the situation.
Follow us on Instagram
@Ceo_Do4Self_Ent
@HipHopSince1987
@RickDange
© 2016, RickDange. All rights reserved.