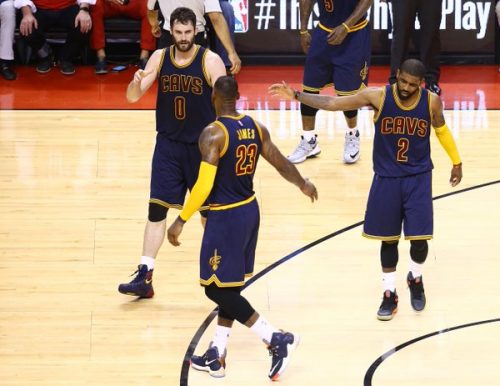 In the words of Mya and Sikk the Shocker, LeBron James and the Cleveland Cavs are "Movin On", to the NBA Finals that is. After a six games 2016 Eastern Confernce Finals series with the Toronto Raptors, the Cavs are headed to their second straight NBA Finals and they await the winner of the Golden State Warriors/ Oklahoma City Thunder series.
The Cleveland Cavaliers defeated the Toronto Raptors in Game 6 of the 2016 ECF (113-87). Cavs all-stars LeBron James dropped 33 points with 11 rebounds and 6 assist and while Cavs all-star Kyrie Irving finished the game with 30 points, 9 assist and 4 rebounds.  Not only are the Cavs repeating as Eastern Conference champs, Lebron James is making history heading to his sixth straight NBA Finals (Cleveland Cavs & Miami Heat). Checkout a few highlights from Game 6 of the 2016 ECF below.
Follow @eldorado2452 for all your NBA and sports news.
© 2016, Eldorado2452. All rights reserved.