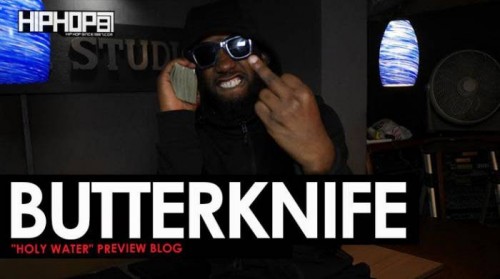 Since the beginning of 2017, the Philly music scene has been consistently growing in a positive direction. Part of the reason why is because of all the new talent that has emerged in the city. One of the main names that you need to be on the lookout for is Butterknife. He's already been stamped in the streets of Philly, and now he's gearing up to make his mark on the world. Today, HipHopSince1987 is proud to debut his new single for "Holy Water" off his upcoming debut mixtape "It's Not a Mixtape, But The Tape Mixed" which is set to release on May 12th. HHS1987's own Rick Dange linked up with Butterknife in Batcave Studios for an exclusive preview of the record. Checkout this exclusive in studio performance & blog from Butterknife premiering his new single "Holy Water" featuring Black Boe. Also click the SoundCloud link below for the audio!! This blog was shot & edited by Rick Dange.
Follow Us on Twitter/Instagram at:
@ButterKnifeKing/@ButterKnife_King
@HipHopSince1987
@RickDange
© 2017, RickDange. All rights reserved.