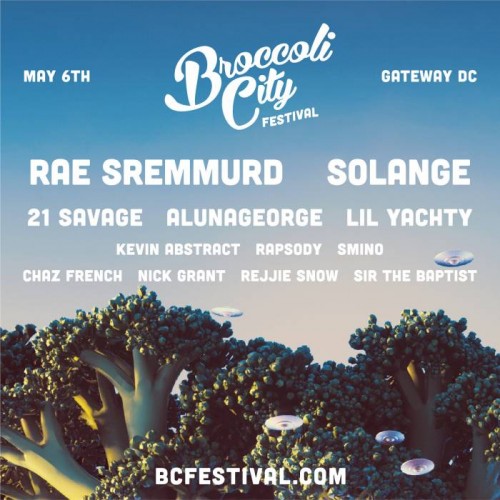 Broccoli City announces the 5th annual Broccoli City Festival at the historic Gateway DC, featuring two stages with performances from some of today's most in-demand and up-and-coming artists. Performers include Rae Sremmurd, Solange, 21 Savage, AlunaGeorge, Lil Yachty, Kevin Abstract, Rapsody, Smino, Chaz French, Nick Grant, Rejjie Snow and Sir the Baptist.
To celebrate the festival's 5th year anniversary, Broccoli City Group is launching Broccoli City Week, a week long incubator for all who strive to create a better world. Broccoli City week will host a variety of events leading up to the festival, everything from city runs, to community action events, to an all night art escape, culminating with the all-day Broccoli City Festival. The Broccoli City Week highlight will showcase the first Broccoli City Conference, a 2-day interactive conference co-hosted by GOOGLE DC and African American History and Culture Smithsonian Museum, focusing on the brands mission to build thriving, resilient communities by improving and highlighting Environmental Justice, Economic Sustainability, Culture, Food Access, and Education in underserved communities.
Visit www.bcfestival.com for additional information on the week-long events.
© 2017, Niyah Nel. All rights reserved.