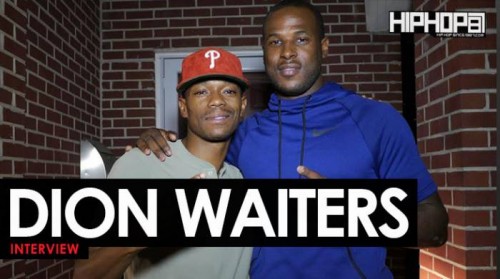 South Philly is one of the hardest areas to make it out of in Philadelphia. To make it out of there, you have to be focused, smart, and real. One person that embodies all of that and was able to make it out of South Philly is NBA superstar Dion Waiters.
Every year since making it to the league, Dion Waiters has thrown a star studded extravaganza called "Made In Philly". The party brings out all of the biggest names in the city, and also brings some of the biggest celebrities in the country. Every year, Dion Waiters links up with HipHopSince1987 for an exclusive interview about his party as well as to give an update on all the good things he has going on. This week, HipHopSince1987's own E-Money and Rick Dange linked up with Dion Waiters in his original neighborhood in South Philly for an in depth interview. In the interview, Dion breaks down all the details about this years "Made In Philly" party, from the celebrity hosts Bernice Burgos and Raven Tracy (SooRaven on Instagram), and also mentions some of the guest that will be in the building including Meek Mill, half the Miami Heat roster, NBA stars Markieff and Marcus Morris, and many more! He also explains why he likes throwing the event so much.
E-Money and Dion also spoke in great detail about basketball. Dion talks about how it feels to be settled and locked in as a Miami Heat player. He talks about not being satisfied with what he's done so far and striving to be bigger and better. Dion also speaks about not being envious of other players, how he felt about being traded from OKC, his relationship with Kyrie Irving and the possibility of him being traded to the Miami Heat, learning from playing with Lebron James and Kevin Durant, and much more!
Checkout part 1 of this 2-part interview NOW!! And make sure you attend Dion Waiters "Made In Philly" party on August 4th!!!
This interview was conducted by E-Money, and Shot & Edited by Rick Dange.
Follow Us on Twitter/Instagram at:
@DionWaiters3/@Waiters3
@HipHopSince1987
@EMoneyBeatz/@BeatEmUpMoney
@RickDange
© 2017, RickDange. All rights reserved.