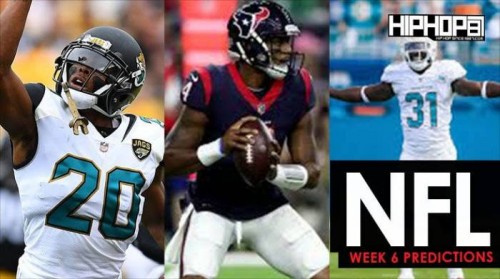 Week 6 of the 2017 NFL Season continues today. Things are still up in the air with the NFL players and Owners and the possible rule to force players to stand during the National Anthem. As we wait to see what the next move will be in this on going saga, players are looking forward to getting on the field and playing the games.
News broke during the week on Dallas Cowboys star Ezekiel Elliott's suspension being lifted so at this time it appears we won't see Zeke Elliott back on the field until late November. With a few key matchups set to kickoff this afternoon including Green Bay vs. Minnesota, Miami vs. Atlanta and Tampa Bay vs. Arizona, checkout My NFL Week 6 predictions and fantasy sleepers below.
Stay tuned to HHS1987 for more NFL news. Follow @eldorado2452 on Twitter and Instagram for all your NFL and sports news.
NFL Week 6 Predictions & Fantasy Sleepers 
Bears 20  Ravens 24 (Fantasy Sleeper: Jeremy Maclin, WR Ravens) 
Browns 17  Texans 41 (Fantasy Sleeper: Deshaun Watson, QB Texans) 
Packers 30  Vikings 27 (Fantasy Sleeper: Marty Bennett, TE Packers) 
Lions 34  Saints 28 (Fantasy Sleeper: Matthew Stafford, QB Lions) 
Dolphins 28  Falcons 27 (Fantasy Sleeper: Jay Cutler, QB Dolphins) 
Patriots 24  Jets 27 (Fantasy Sleeper: New York Jets Defense) 
49ers 17  Washington 26 (Fantasy Sleeper: Terrelle Pryor, WR Washington) 
Buccaneers 31  Cardinals 24 (Fantasy Sleeper: Desean Jackson, WR Buccaneers) 
Rams 34  Jaguars 20 (Fantasy Sleeper: Todd Gurley, RB Rams) 
Steelers 21  Chiefs 35 (Fantasy Sleeper: Kareem Hunt, RB Chiefs) 
Chargers 24  Raiders 21 (Fantasy Sleeper: Philip Rivers, QB Chargers) 
Giants 14  Broncos 28 (Fantasy Sleeper: C.J. Anderson, RB Broncos) 
Colts 24  Titans 27 (Fantasy Sleeper: Derrick Henry, RB Titans) 
© 2017, Eldorado2452. All rights reserved.