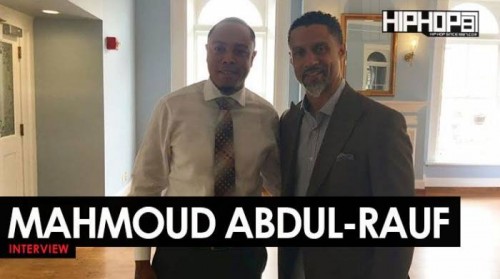 Recently, Terrell Thomas sat down with former NBA star Mahmoud Abdul-Rauf during the Atlanta Hawks Mosanic event to discuss an array of topics.
Mahmoud Abdul-Rauf made headlines back in the 90's for not standing for the National Anthem as a member of the Denver Nuggets in the NBA. In his day, Abdul-Rauf was acknowledged as one the best shooters and ball handlers the NBA has ever seen. Abdul-Rauf played for the Denver Nuggets, Sacramento Kings and Vancouver Grizzlies during his NBA career.
During our interview, Terrell Thomas spoke with Mahmond Abdul-Rauf on not standing for the National Anthem in the 90's and how that effected his professional career. Last year, NFL quarterback Colin Kaepernick made headlines after he decided not to stand for the National Anthem during NFL games due to Police Brutality in America. Once Kaepernick's decision became a national topic, Mahmond Abdul-Rauf's name surfaced being that he did the same thing in the NBA nearly 20 years ago. Mahmond Abdul-Rauf spoke on his time in the NBA following his decision not to stand and his experience meeting Colin Kaepernick.
Mahmond Abdul-Rauf also spoke on the current NBA versus the NBA back in the 1990's. Many sports experts compare Mahmond Abdul-Rauf's game to current player/ two time NBA MVP Stephen Curry. Abdul-Rauf was a three point sharp shooter before the NBA evolved and became a three point shooting league. Mahmond Abdul-Rauf spoke on his favorite current NBA players, and how the game has changed over the years. Stating he enjoys watching Russell Westbrook, Chris Paul, Stephen Curry and Kevin Durant, before concluding our interview, Mahmond Abdul-Rauf spoke on his upcoming endeavors and more.
The interview was conducted by Terrell Thomas. The interview was edited by Danny Digital.
Follow on Twitter/Instagram:
@RaufMahmoud/ @mahmoudar123
@eldorado2452
@HipHopSince1987
© 2017, Eldorado2452. All rights reserved.