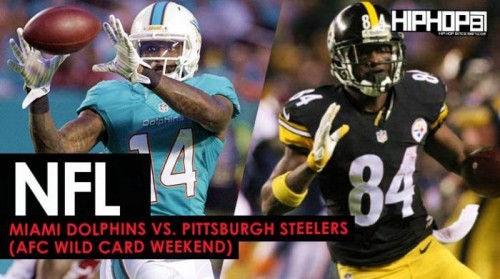 The 2017 NFL Wildcard Weekend continues in Pittsburgh this afternoon as the (11-5) Pittsburgh Steelers host the (10-6) Miami Dolphins.
I expect this one to be a good game. For the Pittsburgh Steelers, it will be the first time all their offensive weapons, the big three of Ben Roethlisberger, Antonio Brown and Le'Veon Bell will all suit up together. Look for the Steelers offense to come out firing. Ben Roethlisberger will pass for 3 touchdowns today, 2 will be to Antonio Brown. Antonio Brown will have a big game scoring three touchdowns and accounting for 200 yards receiving on the day. Le'Veon Bell will be effective today as well. Bell will rush for 115 yards and a touchdown. Pittsburgh's defense will play strong against Miami. Look for the Steelers defense to create two turnovers late which may be the difference of the game.
For the Miami Dolphins, they ended the year strong and they will be looking for that momentum to carry over to the Wild Card round. The Dolphins march into today's game will their backup quarterback Matt Moore leading the way. The Dolphins rushing game has been strong and if the Dolphins want to advance, the running game will be key. Dolphins running back Jay Ajayi will rush for 115 yards and 2 touchdowns today. Matt Moore will pass for over 200 yards and a touchdowns. Despite the Dolphins performance, I'm going with the home team today. Follow @eldorado2452 on Twitter and Instagram for all your NFL and sports news.
Steelers 31  Dolphins 23 
© 2017, Eldorado2452. All rights reserved.