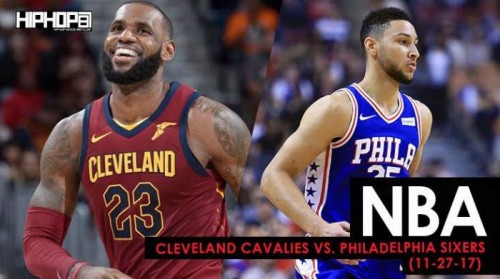 The young Philadelphia Sixers had a big test early in the season on Monday night as LeBron James and the Cleveland Cavs came to town. For years now Cleveland has been the standard in the Eastern conference and currently the Sixers are viewed as the team of the future.
In a sold out Wells Fargo Center, in front of LeGarrette Blount, Malcolm Jenkins and several other Philadelphia Eagles, Ben Simmons squared off against his mentor LeBron James in what turned into a blow out by the Cavs late in the second half of the game.
The Sixers struggled against the Cavs but after the game Sixers star Joel Embiid spoke on it being a learning experience for the young team who he believed will bounce back from this lost. On the night, Joel Embiid finished with 30 points grabbing 11 rebounds. Ben Simmons came into the night averaging 18 points 9 rebounds and 7 but he struggled in match ups against LeBron James and Jae Crowder. Simmons finished the night with 10 points on (5-11) shooting with 8 rebounds and left the game late in the fourth with an ankle sprain. Simmons' injury status hasn't been updated.
Cavs MVP LeBron James played big in Philly setting the tone for the game early scoring Cleveland's first 9 points and finishing the first half with 22 points. LeBron hit a big three point buzzer beater to end the first half and stop a 17-6 first the Sixers were on. James finished the game with 30 points, 14 rebounds and 6 assist. Dwyane Wade added 15 points off the bench and Kevin Love scored 13 points.
The Sixers are back in action at home on Wednesday (Nov. 29th) as they welcome the Washington Wizards to town. The Cavaliers will host the Miami Heat on Tuesday night before heading to Atlanta on Thursday (Nov. 30th) to face the Atlanta Hawks. Stay tuned to HHS1987 for more NBA news. Follow @eldorado2452 on Twitter and Instagram for all your Sixers, NBA and sports news.
© 2017, Eldorado2452. All rights reserved.