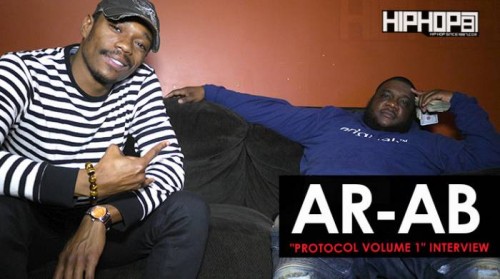 Philly's top goon, AR-AB, has decided that 2017 is going to be his year to take over. After linking up with Birdman and joining Cash Money Records, AR-AB has been on a non stop grind. He has released alot of new records for his fans and sat down for alot of great interviews, especially with HipHopSince1987. This week HHS1987's own E-Money & Rick Dange went down to North Philly and sat with AR-AB for an exclusive interview about his new mixtape that just dropped called "Protocol Volume 1". The mixtape has received great reviews online and in the streets, and is about to hit 1 million streams on MyMixtapez.
In this interview, AR-AB breaks down his new mixtape, from production to features. AR-AB talks about why he's keeping his circle small and only working with his team from now on. He also lets us know about when "Protocol Volume 2" will be releasing.
AR-AB just opened up for Jadakiss & Fabolous this month in Philly for the "Freddy Vs. Jason" Tour. He talks about his relationship with his longtime friend Jadakiss and let's us know when we can expect some new music from the 2 of them together.
Benny Boom and AR-AB recently linked up to shoot a new video for AB's street banger "No Smoke". "No Smoke" has been spinning in clubs and on the radio around the country. AR-AB lets us know when we can expect the video and what the hold up was.
AR-AB has a new web series dropping soon called "The City is Mine". In this interview he details the plot and how he linked up with Do 4 Self CEO, Teefy Bey, to come up with the series.
Before AR-AB wraps up part 1 of this interview, he gives some strong words of advice to his fans and all our viewers.
Checkout part 1 of this exclusive interview NOW and make sure you download or stream "Protocol Volume 1" if you haven't already!!
This interview was shot by Rick Dange.
Follow US on Twitter & Instagram at:
@AssaultRifleAB/@AR_AB_32
@HipHopSince1987
@EMoneyBeatz/@BeatEmUpMoney
@RickDange
© 2017, RickDange. All rights reserved.