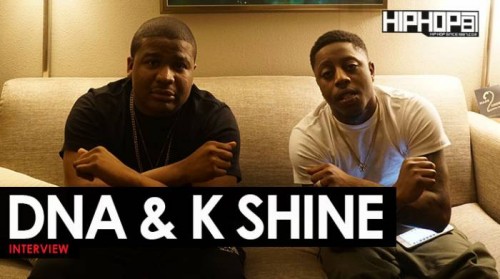 Battle rap has evolved so much from where it originally was. In 2017, to be a successful battle rapper you need to be an amazing lyricist as well as a great performer. Battle rap has come so far that now 2 versus 2 battles exist. If you follow the culture of battle rap, there is no way that you don't know DNA and K Shine. Debatably the best 2 versus 2 battle team in the game, and many believe they are individually 2 of the best battle rappers in the game too.
This month, battle Legends DNA and K Shine sat down with HipHopSince1987's Brian Da Director in Atlanta for an exclusive interview. The duo discussed their upcoming role in Jermaine Dupri's hit series "The Rap Game". Many people think that battle rappers only battle rap, but that's not the case. DNA has been carving out a name for himself as a musician separately from being a battle rapper. In this interview, DNA talks about his latest mixtape "Silvercup" and how he came up with the concept for the project. He also tals about an up coming collaboration with legendary producer Havoc of the group Mobb Deep. K Shine is also an artists and he talks about life as a battle rapper trying to break into the mainstream music industry.
The duo also touches on a bunch of topics but they also talk about how they feel about the world famous Battle rap reality show "Total Slaughter" and give their opinion on the show.
Checkout this interview NOW and be on the lookout for DNA and K Shine on "The Rap Game" show this week!!
This interview was conducted by and shot by HHS1987's Brian Da Director.
© 2017, RickDange. All rights reserved.