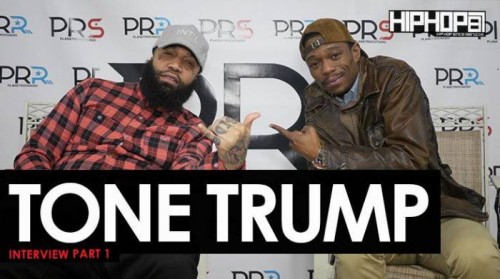 Philadelphia has always been known for having talented musicians, from producers to singers and rappers. If you've ever met anyone from Philly, then you know that focused people from here are some of the best hustlers in the game. This week HipHopSince1987's own E-Money sat down with one of the hardest working artist from Philly, Tone Trump.
From being signed to Jeezy, to now being in the Oscar nominated film "Creed", Tone Trump is always on his grind and focused on elevating his career. In 2017, Tone Trump has linked up with Grammy award winning artist, CeeLo, and the 2 plan on dropping a joint album entitled "Ahkilo".
In this 2-part interview, Tone Trump talks about their upcoming project as well as their new single "Power" which is heating up the internet and radio stations around the world.
Tone Trump isn't only a rapper, he's also an actor and a businessman. In this interview, Tone Trump breaks down some of his new partnerships, including his new endeavors in the medical marijuana industry. He also talks about a few new movies that he is currently filming with some of the biggest movie stars in the industry. Trump also gives us a rundown on his own movie that he's working on right now called "Dobbins", which he wrote and is filming with Taya Simmons.
Another topic that E-Money ask Tone Trump about is his name, and the backlash that he's received about his name since Donald Trump has become president. Tone Trump holds NO punches when he addresses this question.
Watch this classic interview which was shot & edited by Rick Dange NOW, and be on the lookout for part 2 dropping soon!!
Follow Us on Twitter & Instagram at:
@ToneTrump
@HipHopSince1987
@EmonyBeatz/@BeatEmUpMoney
@RickDange
© 2017, RickDange. All rights reserved.