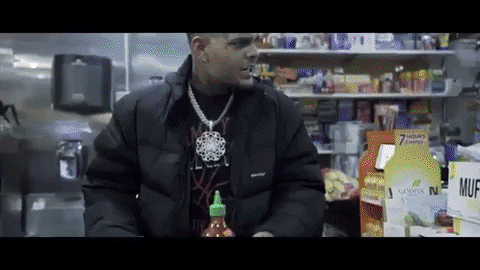 Miami-via-Chicago SoundCloud king Smokepurpp just dropped the video for "Sauce Like This," off his forthcoming Deadstar 2, where Purpp and his homies mob an NYC bodega. Coming in under two minutes, it's a bite-sized banger, with enough time for Purpp to brag 'bout how your sauce couldn't level up to his and nod to how different his life used to be — "When I used to go to school/Bitch, I never had a pencil/So I said 'fuck school!'/Gave myself early dismissal."
Smokepurpp made his name on SoundCloud, building up a loyal following and earning millions of plays on each track. Signed to Alamo/Interscope, in a partnership with Travis Scott's Cactus Jack Records, he earned hundreds of millions of streams on all platforms with the release of "Audi," including 111M on Spotify, and earned a Gold certification from the RIAA, and his debut mixtape Deadstar, which peaked at #42 on the Billboard 200. Smokepurpp made another splash with "Nephew," featuring fellow Floridian Lil Pump, which has over 54 million Spotify streams, shared Bless Yo Trap, a full-length collaboration with producer Murda Beatz, and earned a spot on XXL's 2018 Freshman List.
© 2018, Seth Barmash. All rights reserved.