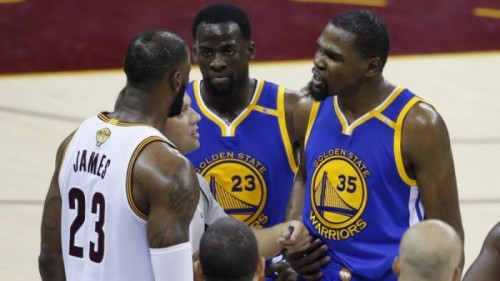 Well, Well, Well, what do we have here? Could a new dynasty be getting ready to form in the Bay Area? There is a strong possibility.
According to reports via ESPN's Chris Haynes, Cleveland Cavaliers star LeBron James could sit down and consider joining the Golden State Warriors this offseason. Now I won't lie, I would have said there is no chance this happens if I was asked a few months ago, but now I can see it.
According to Haynes:
This offseason, James is expected to decline his $35.6 million player option and become an unrestricted free agent for the third time in his career, although re-signing with Cleveland is not out of the question.

James' distant relationship with Cavs owner Dan Gilbert is well-chronicled, and the instability in Cleveland's front office has been of concern to him, but the Warriors' strong organizational structure and the prospect of more championships would be an enticement that most veteran players would consider.

James and his business team have been known to covet structure, if he were to leave his hometown team. With Golden State, an ultra-aggressive general manager in Bob Myers, the ownership group as a whole and coach Steve Kerr are the epitome of that.

A sign-and-trade scenario would be the most realistic way for Golden State to acquire James. The Warriors could build an offer around Klay Thompson and Andre Iguodala to match salary and tempt the Cavaliers into making a deal, according to ESPN's Kevin Pelton.
Things are about to get very interesting and hey, if Durant and LeBron enjoy playing with each other in this years 2018 NBA All-Star game, folks better watch out. Stay tuned to HHS1987. Follow @eldorado2452 on Twitter and Instagram for all your sports news.
© 2018, Eldorado2452. All rights reserved.