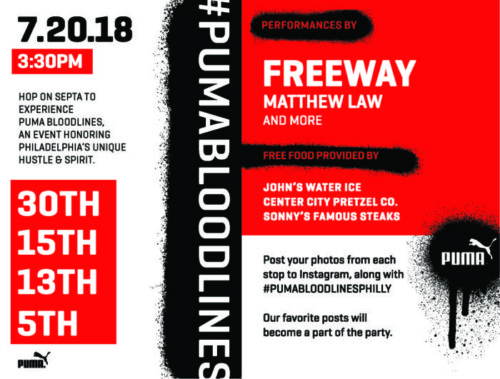 PUMA re-launches their classic GV Special sneaker with a unique activation in Philadelphia!!
PUMA Bloodlines is an event honoring Philadelphia's unique hustle & spirit! Hop on the SEPTA train to experience the rythym and energy of the city at our PUMA stops, hit all stops to receive a pair of PUMA GV Specials at a block party in Franklin Square. Check in to start the experience at: 30th Street Station – 2955 Market Street, Philadelphia, PA 19104
Making its first debut in the 80's the GV Special is the sport-turned-street icon. Celebrated for its smooth leather and court-inspired style. This iteration appears in a crisp, classic all white that the GV known for but is elevated in a new way with a red or blue form stripe – perfect to match with your T7 track jacket.
WHEN: Friday, July 20 @ 3:30p.m.- 7:00p.m.
WHERE: There will be four unique stops during the event featuring different music and snacks. Stop at all four to earn a pair of PUMA GV sneakers!
3:30-5pm – Check in at 30th Street Station* – DJ Cosmic Kev, Breakdancers, Center City Pretzel Co
3:45-5pm – 15th Street Station* – Cinqcopation, Sonny's Famous Steaks (Cheesesteaks)
4-5pm – 13th Street Station* – Bucket Drummers, John's Water Ice
4:30-7pm – BLOCK PARTY – 5th/Franklin Square Station – Yis "Nosego" Goodwin, Grande Marshall, Recohavoc, Freeway / Matthew Law
*Entrance to the platforms require SEPTA train pass
© 2018, RickDange. All rights reserved.