Last night in Philly, the Miami Heat tied their first round series with the Philadelphia Sixers after a (113-103) victory in Game 2.
The game was largely won thanks to a big night from NBA all-star Dwyane Wade. Wade turned backed the hands of time with a 28 point performance in just 26 minutes. 15 of those points came in the second quarter. One of the highlights of the night was the sideline jawing back and fourth between Dwyane Wade and comedian/ actor Kevin Hart.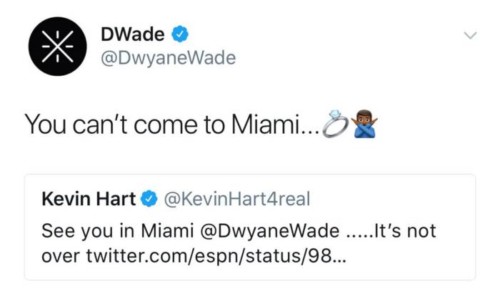 Kevin Hart who is a native of Philadelphia and a huge Philly sports fan was trying to throw Wade off his game but Wade stated post game that it only was fuel to the fire. Post game the two friends shared a few jokes via social media. Checkout the Dwyane Wade and Kevin Hart having a little sideline fun and get ready for more trash talk as the series shifts to Miami. Game 3 of the Miami Heat vs. Philadelphia Sixers takes place at American Airlines Arena on Thursday night.
Follow @eldorado2452 on Twitter and Instagram for all your NBA and sports news.
© 2018, Eldorado2452. All rights reserved.