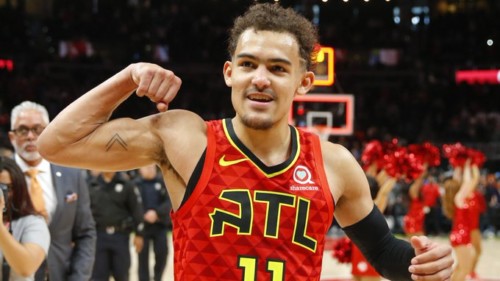 You could feel the excitement once you entered inside of the arena. The young Atlanta Hawks impressed in their season opener in the motor city, so basketball lovers from East Atlanta to Marietta gathered tonight at State Farm Arena for the Hawks home opener.
Following his 38 point performance in Detroit, Trae Young started the game on fire with 10 points in the first six minutes of the first quarter. Trae seemed to draw his energy from the crowd and with each splash of the net, we could see Trae's confidence growing right before our eyes.
Trae Young finished with 39 points, 7 rebounds and 9 assist #truetoatlanta pic.twitter.com/ctYSXEYCrW

— Terrell Thomas (@Eldorado2452) October 27, 2019
The OG of the team, Vince Carter is in action for his 22nd season and when he checked into the game, both Hawks and the few Magic fans in the building stood to their feet showing respect for the future hall of famer.
Once the excite of the home opener began to die down, the guys seemed to settle down and get into playing Atlanta Hawks basketball.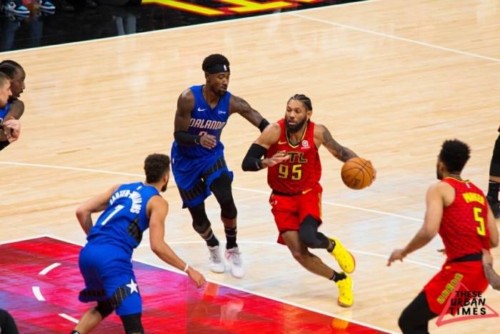 Hawks rookie Cam Reddish's first points came with 4 minutes left in the first half but his defense was key to beginning the game. For the Orlando Magic, Markelle Fultz was impressive in the first half with 10 points 2 rebounds and 2 assist.
The Hawks took a (52-20) lead into the locker room at half time and they picked up right where they left off to start the second half.
Trae Young stayed hot and with the Hawks needed it most, Trae scored 7 straight points with under 3 minutes remaining in the fourth quarter to give the Hawks a (97-96) lead with 1:55 remaining in the game. Saying Trae Young's play today was amazing would be an understatement. Trae young finished the game with 39 points, 7 rebounds and 9 assist.
Both Jabari Parker and Kevin Huerter finshed tonight's game with 10 points respectfully. The atmosphere here at State Farm Arena was nothing short of magical. After Trae Young's strong fourth quarter, fans in the building were chanting MVP MVP MVP for the man who put the team on his back in the fourth period.
Evan Fournier was the leading scorer for the Orlando Magic as he poured in 23 points. His Orlando Magic running mate Markelle Fultz added 12 points in 24 minutes. The final score tonight in Atlanta was (103-99).
The Atlanta Hawks will be back in action on Monday October 28th as the Hawks host the Philadelphia 76ers. Follow @eldorado2452 on Twitter and Instagram for all your Atlanta Hawks, NBA and sports news.
© 2019, Eldorado2452. All rights reserved.