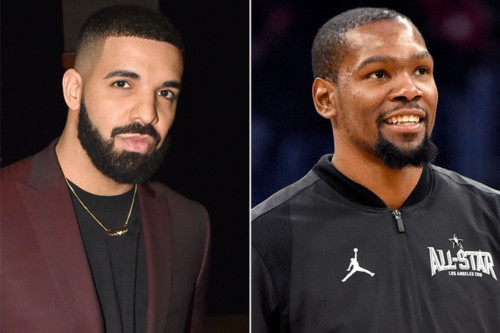 If you tuned into last night's NBA Finals game between the Toronto Raptors and Golden State Warriors, then you saw the unfortunate injury Kevin Durant endured in the second quarter. While some Raptors fans cheered (how rude!), Drake showed more concern for his friend. As KD hobbled past him, with the team's trainer helping him along the way, Drake reached out and grabbed KD by the shoulder in a consoling manner.
Drake consoled Kevin Durant as he walked off in the second quarter. pic.twitter.com/05ZpHdL49l

— ESPN (@espn) June 11, 2019
KD did not return. While his teammates handled business, and beat the Raptors on their home court, Durant was treated in the locker room. He scheduled to have an MRI for his Achilles tendon to confirm if was torn, and if he is able to return for the rest of the series. This morning, Drake took to Instagram to end KD some words of encouragement.
© 2019, MariaMyraine. All rights reserved.