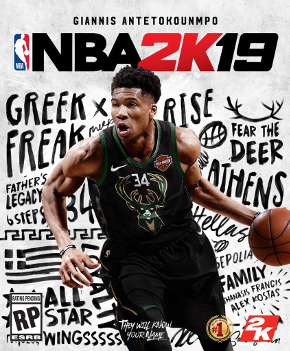 NBA 2k19 has been in the news for quite a long time now. We learned last summer that Giannis Antetokounmpo would grace the cover, and it turns out to have been a good call given that the Milwaukee Bucks star is in the running for the MVP. And the game was released in September, to mostly positive reviews, as is typical of the franchise at this point. What hasn't been discussed quite as much as we might have expected though, is the game's soundtrack, which is actually a major vehicle for a number of hip-hop artists.
When you think about music in gaming, it's fair to say that hip-hop doesn't really have its own niche. Mainstream console and mobile games seem to be turning more and more to their own compositions for most games, with the occasional placement of a popular song or some electronic tracks by modern DJs. For the most part though, these most popular of video game genres are fairly closed off to artists, and perhaps hip-hop artists in particular.
Rock music, meanwhile, has found an unexpected but oddly fitting home in casino gaming. This is something that will be less familiar to some American music fans, though where there are casino games in America, you'll find rock themes. Both Jimi Hendrix and Guns N' Roses feature in a fairly small grouping of free slot games offered by a New Jersey site, and other groups like Megadeth and Metallica have lent their material to similar games. Here too though there doesn't seem to be much space for hip-hop, or at least few if any prominent artists have taken advantage of the idea.
There just isn't a whole lot out there, save for a specific example now and then of a game that specifically invokes not just music but hip-hop themes and culture. The NBA 2k series, however, is different. For many years now it's been a reliable source of awesome hip-hop soundtracks, to the point that some gamers undoubtedly look forward to new track listings about as much as they get excited to play the actual games. You can read here to see the full, 47-song list of NBA 2k19 tracks, curated by Travis Scott. But here, by our estimation, are some of the highlights:
SICKO MODE by Travis Scott
In a way that's difficult to describe, "SICKO MODE" just completely captures the vibe of this series over the years. This, plus some basketball-related lyrics, make it a real highlight from the track list.
Cry by Alison Wonderland
It's hard to think of a much more unique song from the last few editions of the NBA 2k series. Low-key but catchy, and almost hypnotic in a way, it doesn't actually fit what these games typically go for, and yet it blends in perfectly somehow.
Driftin' by Bishop Nehru
"Driftin'" feels a little bit like rap from the late '90s or early '00s, mixed with a refrain that's more typical of the modern era of hip-hop. This combination makes it a perfect track for true hoops junkies who have been playing these games, and enjoying the close links between hip-hop and the NBA for decades.
Stir Fry by Migos
It was probably a given that Migos would feature somewhere on this soundtrack, and while "Stir Fry" doesn't necessarily pop out of context, it's just the sort of track these games need to help them along at times. It's a good passive listen, and fits right in with the game.
No Escapin' This by The Beatnuts
There might not be another song on this list that feels more "in your face" than "No Escapin' This" does. This track just comes right at you, with a heavy beat and a loud, punctuating flow. It's the kind of track you can almost imagine backing a hoops montage in a great basketball movie, and it serves a similar purpose here.
Praktice by Young M.A.
It's far from the best track on the list, but any real NBA fan has to appreciate references to Allen Iverson's infamous "we talkin' 'bout practice" line.
© 2019, RickDange. All rights reserved.