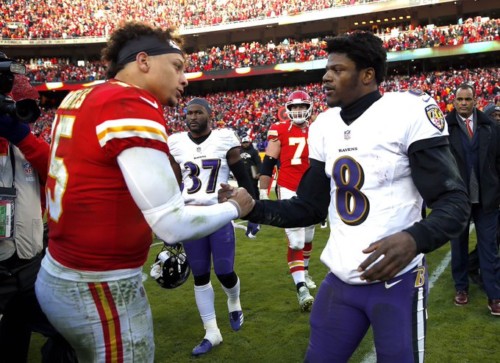 Week 3 of the 2019 NFL season is here and there are a few marquee matchups. As the Patriots, Chiefs, Ravens, Cowboys 49ers, Seahawks, Rams Bills and Packers look to remain undefeated, there are several teams look to capture there first win of the year.
The biggest matchup of the day will come at 1pm as the Baltimore Ravens and Lamar Jackson walk into Kansas City to face Patrick Mahomes and the Kansas City Chiefs.
Before you get set for a day of entertainment, checkout My Week 3 for the 2019 NFL season. Follow @eldorado2452 on Twitter and Instagram for all your sports news.
NFL 2019 Week 3 Predictions
Dolphins 13 vs. Cowboys 27 
Bengals 17 vs. Bills 23 
Lions 16 vs. Eagles 28
Falcons 17 vs. Colts 21
Raiders 21 vs. Vikings 27
Ravens 17  vs. Chiefs 20 
Broncos 23 vs. Packers 21 
Panthers 21 vs. Cardinals 30
Giants 14  vs. Buccaneers 31 
Saints 20 vs. Seahawks 17
Texans 20 vs. Chargers 28
Steelers 10 vs. 49ers 35
Rams 24 vs. Browns 28
Bears 23 vs. Redskins 13
© 2019, Eldorado2452. All rights reserved.