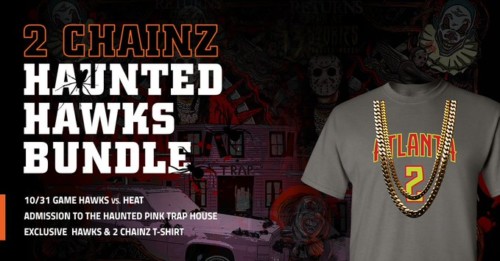 Today, the Atlanta Hawks, and Grammy Award-winning artist 2 Chainz announced a special Halloween-themed bundle that includes a ticket to the team's game against the Miami Heat on Thursday, Oct. 31, access to the popular Haunted Pink Trap House, along with other attractions at the 13 Stories Haunted House. Fans who purchase the package also get an updated version of the limited-edition 2 Chainz and Hawks co-branded t-shirt.
The Hawks and 2 Chainz, who recently joined the ownership group for the Hawks' G League affiliate, the College Park Skyhawks, previously released a co-branded t-shirt featuring the Atlanta native's famed two-necklace look to commemorate his first in-game concert appearance back in 2015. The 2019 re-release of the popular tee will be in a grey.
2 Chainz' original Pink Trap House gained global notoriety after it became a social media sensation as part of the marketing for his 2017 release Pretty Girls Like Trap Music. The rapper then partnered with 13 Stories Haunted House to bring a scary, hip-hop version to life for Halloween in Newnan, GA last fall. This year, attendees will walk through three phases of the haunted house that are inspired by notable urban films. Haunted Hawks pass also gives fans access to other 13 Stories attractions including Zombie Alley, Clown Haus Returns and the Hellevator.
Bundles that include tickets in the 100 level for the Oct. 31 game start at $69 and bundles that include tickets in the 200 level start at $43. Fans can secure their spooky package at Hawks.com/HauntedHawks. Follow @eldorado2452 on Twitter and Instagram for all your Atlanta Hawks, NBA and sports news.
© 2019, Eldorado2452. All rights reserved.