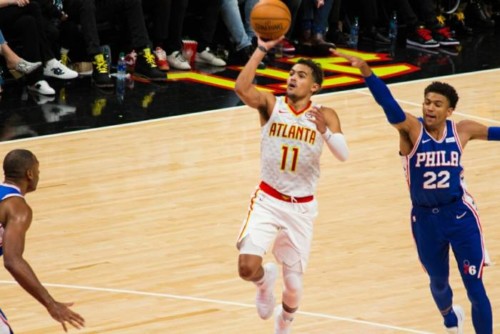 The Philadelphia 76ers may have handed the Atlanta Hawks their first loss of the season but it may have been the best thing to happen for the Hawks.
I can assure you that no one on the Atlanta Hawks rosters or coaching stuff will ever be happy about a loss so I'll praise them for their efforts myself. The Hawks came into the night with a (2-0) record and one of the youngest rosters in the league. Winning is something that every team in the NBA want to do but it is something that is learned.
In a 82 game season, there are moment when you may not get the result you trained for, but the lesson is the greater blessing. That happen for the Atlanta Hawks last night against Philly.
Before the game tipped, I was scanning State Farm Arena's lower bowl and I was shocked at the lite crowd but that quickly changed by the second quarter and Hawks fans were key all night long. With the hype surrounding the game, and the talent on both teams, it was a playoff style atmosphere and the Hawks 6th man section didn't disappoint. Sixers fans were deep in attendance, but Hawks fans didn't back down, delivering chant after chant in support of the Hawks with a bit of trash talk here and there.
Late in the game there was a momentum swinging dunk by Sixers big man Joel Embiid over Hawks rising star John Collins that really stood out to me. Of course if was a great dunk by Embiid, however I was impressed with the poise Collins continued to play with after that play. Collins tied the game up late in the 4th quarter after a missed foul shoot and flexed on the Sixers big men. That showed me that the young man is a fierce competitor and was ready for the moment.
We will get another to see how the Hawks bounce back tonight as they play their first back to back of the season. The Hawks are in Miami tonight to face the Miami Heat. With Trae Young scoring 25 points last night, he is currently second in the NBA in scoring at 34 points per game. Checkout My recap from the Sixers vs. Hawks.
Follow @eldorado2452 on Twitter and Instagram for all your music and entertainment news.
© 2019, Eldorado2452. All rights reserved.