We are early in the 2019-20 NBA season but tonight's Sixers vs. Hawks matchup was a big test to just how good these Hawks can be this season. If was a playoff like atmosphere in the building. The Hawks and Sixers both entered the game with (2-0) records so something had to give.
The Hawks came out the gate on fire from three point land shooting 60% from three in the first quarter. Hawks star Trae Young picked up right where he left off scoring 13 points in the first quarter along with a nasty crossover on Sixers guard Josh Richardson.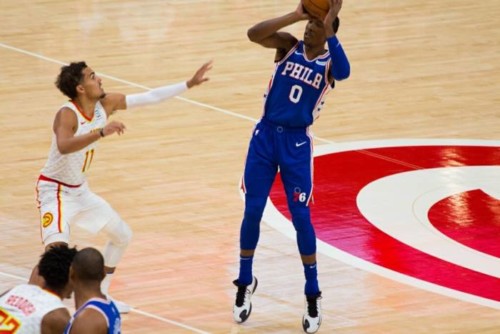 After scoring 40 points in the first quarter, the scoring slowed down for the Hawks in the second quarter. The Hawks only scored 15 points in the second quarter.
Sixers guard Josh Richardson stepped up in the second quarter and finished the half with 14 points. Sixers all-star Joel Embiid the half with 19 points and 4 rebounds.
The third quarter for both the Sixers and Hawks was pretty sloppy aside from a big slam dunk by Joel Embiid over John Collins. The Sixers had a scoring drought in the third quarter. There was a period of 4:18 where the Sixers didn't score a point. The second half of the Sixers vs. Hawks become a defensive battle as both teams bucketed down on that side of the ball.
Sixers big man Joel Embiid made his presence felt in the second half. Embiid converted baskets in the paint and from three to give the Sixers the lead as we entered the fourth quarter. Hawks rookie De'Andre hit a huge three pointer with 4:53 remaining in the fourth quarter to give the Hawks a (98-90) lead. After that, we witnessed the Joel Embiid show.
Embiid finished the game tonight for the Sixers with 36 points, 13 rebounds and 5 assist. Ben Simmons dropped 13 points along with 6 rebounds and 6 assist. Trae Young was the leading scorer for the Hawks tonight finishing with 25 points and 9 assist. John Collins finished with 16 points and 8 rebounds.
The Atlanta Hawks are back in action on Tuesday October 29th in Miami vs. the Miami Heat.
© 2019, Eldorado2452. All rights reserved.