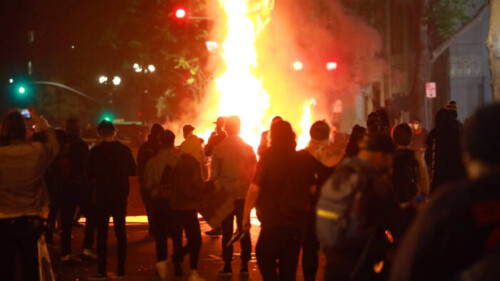 The police chief and mayor of Richmond, Virginia reprimand racial oppressors for affecting viciousness at a quiet Black Lives Matter protestor.
The police chief and mayor of Richmond, Virginia presume that white supremacists acting like protestors invaded a Black Lives Matter meeting throughout the end of the week and impelled obliteration and brutality. As per nearby CBS News associate WTVR, the march was sorted out close to the Richmond Police Headquarters and was intended to show solidarity with anti-police brutality protests in Portland, Oregon. 
Talking during a public interview, Police Chief Gerald Smith said the office had recognized a portion of the individuals from the gathering who caused property demolition as Antifa supporters and individuals from the Boogaloo Boys — a far-right extremist group.
"We have identified some individuals who have been seen with the Boogaloo Boys and some Antifa groups around the area," Smith said. "The majority of those individuals who were there last night were Caucasian and some of the individuals that we encountered were from outside of Richmond, Virginia, and some of the surrounding area."
As per Smith, an online flyer calling for violence during the occasion was made by a person outside of Richmond. 
"We know that the origin of the flyer came from outside of Richmond," he explained. "There are some people who are still inside some of these organizations that will still give us information and that's how we know it came from outside of Richmond."
During the meeting, Richmond Mayor Levar Stoney said that white supremacists had endeavored to sabotage Black Lives Matter activists' month-long serene protests by destroying property and labeling houses with "hateful language." Stoney guaranteed the public that the police department is attempting to recognize these people and consider them responsible. 
"We saw some violent actions, violent protests, spearheaded by white supremacists — and frankly, it was disgusting," Stoney said. "As they held plywood shields that read "BLM," these folks toured areas of damage downtown, The Fan, breaking windows, tagging private property with hateful language."
Stoney uncovered that Black Lives Matter activists had helped authorities recognize a portion of the instigators and expressed gratitude toward them for what he called "24 successive long stretches of peaceful protests." 
"As I began with, I want to send a thanks to the BLM protesters on the ground who decried the white supremacists once they were identified," he said. "I'm thankful to you for drawing the line and sticking up not just for the sanctity of your movement, but also the safety of your fellow Richmonders that you marched alongside as well."
© 2020, The Millennial General. All rights reserved.