THIS IS WHAT HIP HOP WAS BIRTHED FOR TO TELL THE STORY OF THE PEOPLE IN HOPES WE PROGRESS TOGETHER AS A CULTURE
The Wordsmith is back and he's better than ever!!!! Dell-P has been laying down a super solid foundation dropping content full of positivity and social commentary. With the release of his highly anticipated album MEGA "Make Emceeing Great Again", Dell-P is proving that he has no plan on slowing down anytime soon. This year has been very strange to say the least, but there is an undeniable shift going on music. With the COVID-19 pandemic keeping our country on lockdown the world is in need of substance. We are sure that you will enjoy this visual for "Follow The Signs" directed by D.S The Writer. This soulful track is produced by The Wurxs and Dell-P is speaking nothing but the truth. To pay homage to our revolutionaries and political prisoners, this visual features exclusive commentary from the legendary Ramona Africa of The Move 9. The mission is to bring attention to the signs letting us know that we must unify and change the narrative before it is too late. The world is in a very dark place so we hope that you are inspired by this cinematic work of art. Be sure to follow @DELLP215 on IG and Twitter. MEGA is available on all digital platforms now!!
https://distrokid.com/hyperfollow/dellp/mega-make-emceeing-great-again
PHILADLEPHIA HISTORICAL EVENT WILL NEVER BE FORGOTTEN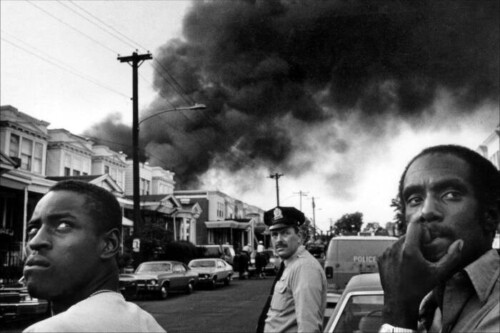 As calls grow for the city to issue a formal apology for the MOVE bombing timed for Wednesday's 35th anniversary of the tragedy — which left 11 people dead, including five children, and burned down 61 homes — the city's top leaders have so far declined to weigh in."Nothing is planned," said Mike Dunn, a spokesperson for Mayor Jim Kenney. Dunn did not respond to a question about whether Kenney would be supportive of efforts to acknowledge the city's role in what is remembered as one of the darkest chapters in Philadelphia history. Council President Darrell L. Clarke declined to comment through a spokesperson on whether he would support legislation related to MOVE, described at the time of the 1985 bombing as a radical back-to-nature group. Former Mayor W. Wilson Goode Sr., who authorized the bombing on Osage Avenue in Cobbs Creek and has publicly apologized for his role, called for an official atonement by the city in an op/ed published Sunday by a British newspaper, the Guardian.

"After 35 years, it would be helpful for the healing of all involved, especially the victims of this terrible event, if there was a formal apology made by the City of Philadelphia," Goode wrote. "That way, we can begin to build a bridge that spans from the tragic events of the past into our future." Goode's comments are part of a nearly two-year effort by an ad hoc group of former city officials, MOVE members, and reconciliation experts, the Guardian reported. The group, which was formed after critics of Goode's handling of the tragedy protested a 2018 ceremony naming a street after him, has also produced a draft apology resolution that City Councilmember Jamie Gauthier, who represents West Philadelphia, plans to introduce. Kenney and Clarke were invited to participate in the process, but have not done so, said Pauline Thompson Guerin, a Penn State University psychologist working with the group.

"To not engage with an apology says a lot," Thompson Guerin said in an interview. "It's the city of brotherly love and sisterly affection, but you won't apologize for an obvious harm, an event that nobody questions the devastation, nobody questions how horrible that was." Former Gov. Ed Rendell, who as district attorney prosecuted MOVE members, worked with the group for a time, but stopped participating, Thompson Guerin said. Rendell said Friday that he is skeptical that Council will approve a formal apology. It is unclear when Gauthier's resolution could be introduced. Council, which has been holding virtual meetings to practice social distancing during the coronavirus pandemic, is acting only on legislation related to the public-health emergency or the city budget.

"If the people who we say are our leaders … cannot see the value in that, it becomes more clear for me as to why people withdraw from political engagement because it doesn't seem to have any real value," Slaughter said. Nonetheless, Slaughter said, he is optimistic the city will one day make amends. "If the apology doesn't come now," he said, "it's the beginning of a long road ahead."
© 2020, Wilde Tuna. All rights reserved.