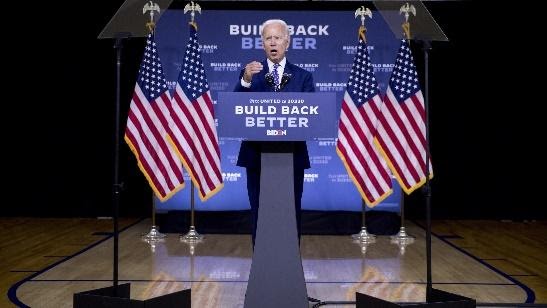 Earlier this week, a new batch of ads resembling testimonies were released in North Carolina by Biden for President, which featured seven Black North Carolina men and spoke to Black Americans who are worried about what would happen to their lives under a second Trump administration. The ads were produced by Truxton Creative and continues the testimonial-style ads, wherein Black Americans speak about their personal experiences of Trump's America, as well as the reasons for their of Joe Biden and Kamala Harris. They also speak about the need for voting in this election. This new "Shop Talk" series is being aired on television as well as other digital platforms and it integrates socially distanced interactions among Black men at 360 Barbershop, a Black-owned barber shop in Durham, North Carolina.
In the first two ads of the series titled "Shop Talk Our Right" and "Shop Talk Trust," Black men talk about their endorsement of Vice President Biden and Senator Harris as well as their trust in this leadership to guide the country. These ads are 30 seconds long and will air in North Carolina, while an extended version of "Shop Talk Our Right" will air nationally.
In this ad, seven Black North Carolina men are featured, including State Representative Zack Hawkins, Raleigh-based attorney Antoine Marshall, UNC-Chapel Hill student Greear Webb, Durham-based community organizer David Dixon, Wake Forest-based attorney Kieth Shackleford, Raleigh-based campaign and development advisor Sean Grier, and Cary-based accountant Nate Branscomb.
Truxton Creative is headed by founder Terrance Green, who is a media strategist and creative director and a key player in President Obama's campaigns during both his terms, leading the 2012 campaign's media team. In the 2020 campaign, Truxton leads the placement and creation of all African-American focused advertising.
The new ad attempts to continue influencing Black voters through the campaign by showcasing how various Black American groups are handling the current scenario. This ads are a part of the strategy of Vice President Biden and Senator Harris to attain every vote of Black Americans.
© 2020, The Millennial General. All rights reserved.