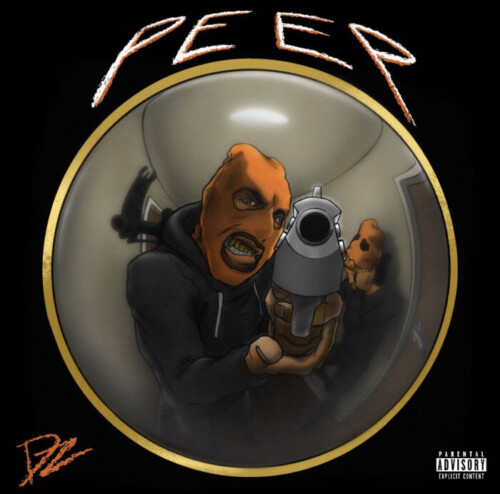 writer Livengoodlivin 
Baltimore's son, DZ, formally known as Black Zheep DZ, released a new track called "Peep" today from his upcoming Gutz & Glory EP. Coming through with a sinister warning shot over 808s and eerie piano loops, DZ finds hidden rhythmic pockets to flex his malleable flow – " Peep, though / I ain't comin' at all if I ain't comin' lethal / Put my heart on ice cubes, I'm goin' D-BO / Mind too strong for a weak ho*." Please let me know if you'd be down to post it!
Born and raised in East Baltimore, DZ applies his eclectic taste and unconventional sense of rhythm to make uniquely raw rap music. He started taking rapping seriously in HS as a way to fight against a rigged system. Influenced by golden age hip hop, dancehall, and R&B, DZ grew to become a fixture in the flourishing but hermetic Baltimore rap scene. A member of the Basement Rap collective along with Baltimore underground hero Butch Dawson, the rapper earned critical acclaim from the likes of 
Noisey
, The 
FADER
HYPEBEAST,
 and collaborated with the likes of Goldlink and D.R.A.M. Says DZ about his music making,
"Music is my own therapy, it's a part of meditation to me. It was another route to take instead of getting trapped by the system, even though sometimes we have no choice. For me though, musicologists gave me hop, inspiration, and even kept me challenging myself. I love me a challenge." 
Michelle McDevitt Co-Founder 
TikTok

 | Rolling Loud | 03 Greedo | E-40 | Young Dolph | Shoreline Mafia | Lil Du

rk | EMPIRE | 1017/Alamo Records | & 
much more
We at Audible Treats are committed to fighting racial injustice and we stand with our Black artists, managers, executives, friends, and family. I listed some resources below that I've personally found useful – please share more with me if you are so inclined.
© 2020, Wilde Tuna. All rights reserved.