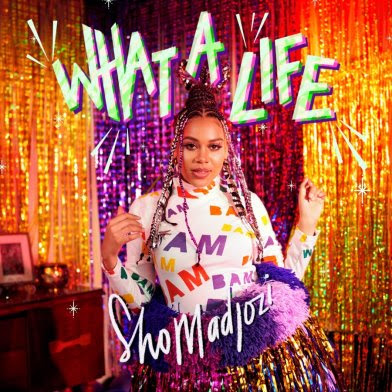 Reinforcing her pursuit of embracing her heritage, award-winning South African rap disruptor Sho Madjozi releases her latest nine-track mixtape, What A Life. A celebration of individuality, it is a fusion of gqom, Afro-pop and the fast and exciting wave of new-age Xitsonga pop, proving that while you can take the girl out of the village, you certainly can't take the village out of the girl. Stream it HERE!
At its core, this is a project that champions the idea of embracing who you are, and is a brilliant showcase of what you can be when you are proud of where you are from.
What A Life gives us a confident and vibrant Sho Madjozi. It dives deep into the sounds of her birthplace in Limpopo, in Northern South Africa. This time around, Sho spins universal rhymes about love, friendship, dance and, for the first time, insight into her recent globetrotting success, with a sneak peek into the whirlwind few years the trendsetting Afro-pop songstress has had.
Highlights include the cheeky socio-political commentary of "DiHawks", the vibey hard-hitting anthem "Sena Ala", and the electrifying Xitsonga dance hits "Amajoy" and "January." Perhaps the most noteworthy is "Shahumba" featuring the legendary Tsonga singer and producer, Dr Thomas Chuake, in his first ever collaboration.
With What A Life, Sho continues her quest of global domination while staying true to her colorful, cosmopolitan roots.
Tracklisting (Languages used in parentheses)
01 Ni Langha wihi (In Xitsonga & English)
02 Dyisa Squad feat Sunglen Chabalala (In Xitsonga & English)
03 Shahumba feat Thomas Chauke (In Xitsonga & English)
04 Sena Ala (In Xitsonga & English)
05 DiHawks (In Xitsonga, Sepedi & English)
06 Jamani (In Kiswahili, Xitsonga & English)
07 Tsha Dovha feat Makhadzi & Manu WorldStar (In Tshivenda, Xitsonga, English & Lingala)
08 Amajoy feat Russian Army (In Xitsonga)
09 January feat DJ Mfundhis (In Xitsonga)
About Sho Madjozi:
Sho Madjozi has come a long way from the two-room rondavel she called home as a child in South Africa. Since making her debut in 2017, she quietly emerged as a global force renowned for head-spinning wordplay, ear-perking Xitsonga lyrics, and eye-popping colorful fashion. Powered by bangers like "John Cena" [2.6 million Spotify streams] and "Huku" [1.6 million Spotify streams], she took home "Favorite African Star" at the Nickelodeon Kids Choice Awards, "Best New International Artist" at the BET Awards, "Entertainer of the Year" from Forbes, and more. This year, she was nominated once again for a BET Award in the category of "Best International Artist."
She graced the global covers of magazines such as Elle, Cosmopolitan, and Bona. Not to mention, she shared the stage with Beyoncé and Ed Sheeran at the 2019 Global Citizen Festival and joined forces with Diplo for a much talked-about Super Bowl party performance in the same year. Plus, she met actor and WWE legend John Cena during a viral moment on The Kelly Clarkson Show. In addition to widespread acclaim from Vogue, The FADER, Noisey, Billboard, BBC, OkayAfrica, and more, The New York Times praised how "She pays homage to her heritage while updating it for the moment, cutting across continents and genres."
Now, she's on her way to the forefront of popular culture worldwide on her own terms.
https://www.instagram.com/shomadjozi
https://twitter.com/ShoMadjozi
https://shomadjozi.lnk.to/WhatALife
© 2020, Seth Barmash. All rights reserved.