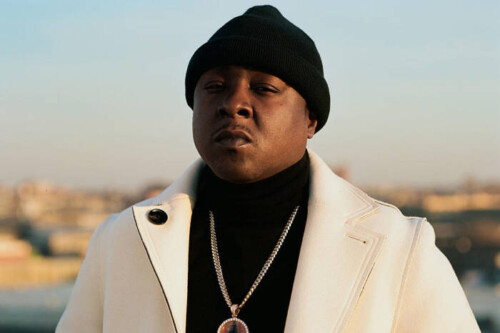 Jadakiss, He is known for being one third of the East Coast hip hop group The Lox as well as being a member of Ruff Ryders and for his solo work. He is currently signed to both Def Jam Records and his own label, D-Block Records, which he founded with the other members of The Lox. Jadakiss has released five studio albums, with the most recent being Ignatius on March 6, 2020.
HISTORY
Signing with Bad Boy, Puff Daddy at the time shortened the group's name from The Warlocks to simply The LOX. They made their first appearance on The Main Source's 1994 LP "Fuck What You Think" on the track "Set it Off." They immediately began writing and performing on hit songs with fellow Bad Boy artists, including Puff Daddy's "It's All About the Benjamins" and "I Got the Power", Mase's "24 Hrs. to Live", Mariah Carey's "Honey", Mary J. Blige's "Can't Get You Off My Mind" and The Notorious B.I.G.'s "Last Day". The group developed a close relationship with B.I.G., during which time Jadakiss especially was taken under his wing. The LOX's first hit song was a tribute to The Notorious B.I.G. in the wake of his 1997 death, titled "We'll Always Love Big Poppa". The song was chosen as the B-side to Puff Daddy's smash hit B.I.G. tribute song "I'll Be Missing You", and received widespread commercial success, achieving multi-platinum status from the Recording Industry Association of America (RIAA).
BAD BOY'S FALL OUT
The success and reception of the song opened the door for them to write more of their own songs, and in 1998, the LOX released their debut studio album, "Money, Power & Respect". The album was both a commercial and critical success, peaking at number 3 on the Billboard 200 and number 1 on the US Top R&B/Hip-Hop Albums chart, and went on to achieve platinum status. Though the record was successful, The Lox grew unhappy with Bad Boy Records and Puff Daddy's, radio friendly production, feeling it conflicted with their image.
CONTINUED SUCCESS
Following the release of their debut album, the group left the label to sign with Ruff Ryders Entertainment. They released their second album, We Are The Streets in 2000, through Ruff Ryders. The album was once again a success, peaking at number 5 on the Billboard 200 and number 2 on the US Top R&B/Hip Hop Albums chart. It featured production from Swizz Beatz and Timbaland, and spawned one single, "Ryde Or Die, Bitch" featuring fellow Ruff Ryders artist Eve.
THE GOLDEN YEARS
Jadakiss began embarking on a solo career in 2001 and his debut album, "Kiss Tha Game Goodbye", was released in August on the Ruff Ryders/Interscope label. The album featured popular guests and producers such as DJ Premier, The Alchemist, DMX, Eve, Snoop Dogg and Swizz Beatz and was commercially successful, going on to be certified gold by the RIAA and selling over 200,000 copies during its first week of release. Despite commercial success, the album received negative reception from critics who criticised the album for being repetitive and uninspired. Jadakiss has acknowledged the criticism as valid, saying the record was done less out of inspiration but rather out of contractual obligations to Bad Boy. The album produced three singles, "We Gonna Make It" featuring Styles P, "Knock Yourself Out" and "Put Ya Hands Up".
Jadakiss followed this album with "Kiss of Death", released in June 2004. It features guest appearances from Snoop Dogg, Eminem, The Lox, Kanye West, Pharrell Williams, Nate Dogg, DJ Quik and more. His song "Why?", featuring Anthony Hamilton and produced by Havoc of Mobb Deep, became one of the year's biggest hits, spawning a remix featuring Styles P, Common and Nas. "Why?" remains Jadakiss' biggest hit, peaking at #11 on the Billboard Hot 100. The song also garnered controversy for a line in which Jadakiss claims that he believes George W. Bush planned the 9/11 terrorist attacks. Another single from the record, "U Make Me Wanna," featuring Mariah Carey peaked at number 21 on the Billboard Hot 100. The album was both a commercial and critical success, receiving better reviews than his previous album and debuted at number 1 on both the Billboard 200 and the Top R&B/Hip Hop Albums charts.
In late 2007, Jadakiss signed to Jay-Z's Roc-A-Fella Records, a move Jay had been trying to arrange for a long time. The move came on the heels of increased D-Block/Roc-a-Fella collaborations; in 2006, Jadakiss and former rival Beanie Sigel collaborated on DJ Khaled's album Listennn… the Album, and in 2007, on Freeway's album "Free At Last". Styles P appeared on a radio freestyle with Freeway and Sigel, and also appeared briefly in the video for Jay-Z's American Gangster single "Roc Boys," in which he throws up the famous Roc-a-Fella sign, "the Diamond."
In 2009, Jadakiss released his much-delayed and anticipated third studio album, "The Last Kiss". The first single, "By My Side" featuring Ne-Yo was released in October 2008. Two more singles, "Can't Stop Me" and "Death Wish" featuring Lil Wayne, were released in 2009. One more single, "Who's Real", featuring Swizz Beatz and OJ Da Juiceman released later that year.
In 2010, Jadakiss left Roc-A-Fella records. In 2011, he was featured on two DJ Khaled tracks, one of them titled "It Ain't Over Til It's Over", featuring Mary J. Blige and Fabolous, and the remix of "Welcome to My Hood," also featuring Ludacris, Busta Rhymes, Twista, Mavado, Birdman, Ace Hood, Fat Joe, Game, Bun B and Waka Flocka Flame. On April 26, 2012, Jadakiss released his mixtape Consignment, hosted by DJ Drama.
On June 4, 2013, Jadakiss released the first single from his upcoming fourth studio album, "Top 5, Dead or Alive" titled "Big Boy Dialogue", featuring vocals from The-Dream. The album was scheduled to be released during September or October 2013, but after much delay, the album was finally released on November 20, 2015. It features guest appearances from Akon, Future, Jeezy, Lil Wayne, Ne-Yo, Nas, Nipsey Hussle Styles P, Puff Daddy, Sheek Louch, Swizz Beatz, Wiz Khalifa and Young Buck, and was supported by 2 singles, "Jason" featuring Swizz Beatz, and Ain't Nothin' New featuring Ne-Yo and Nipsey Hussle. The album debuted at number 4 on the Billboard 200, and received positive reviews from critics.
In 2016, The Lox released their first album in 16 years, title "Filthy America…It's Beautiful". The album featured guest appearances from Fetty Wap, Mobb Deep and Gucci Mane, and peaked at number 42 on the Billboard 200.
On February 29, 2016, Fabolous posted a picture on Instagram with Jadakiss with the caption, "Freddy vs. Jason coming soon", hinting at the release of a joint project with Jadakiss, titled Freddy vs. Jason. On April 2, 2016, Fabolous and Jadakiss released a freestyle of Future's "Wicked" from Purple Reign that was scheduled appear on Freddy vs. Jason, but did not make the final cut of the album. They also revealed that it would not be a mixtape, but instead a full album.
On October 31, 2017, the album's first and only single, "Stand Up" featuring Futurewas released. On November 21, 2017, it was announced that the album title was changed to "Friday on Elm Street". The album was released on November 24, 2017, and features guest appearances from Future, Jeezy, Styles P, French Montana and Yo Gotti.
WHAT IT TAKES TO BE A KING IN THIS GAME FOR MULTIPLE DECADES…..
Forget everything you just read and use some critical thinking… From 1994 to 2020, how drastically the music sound, business, owners and fans have changed and grown. Being able to create classics like "Why" and still drop street music illustrating his harsh come up. Standing toe to toe with the top artist of 3 generations in the hiphop world, not losing motivation when times got hard and groups split up, not losing the motivation during hard times and bad contracts and not losing the authenticity of yourself as an artist. Jada has given game in the music and outside the music with his actions leading to his longevity. Forever a staple in Hip-Hop Jadakiss goes on the first ballot for the Hall of Fame, Jadakiss goes 1st all Hip-Hop team as a starter and forever embedded in the history of our culture.
© 2020, Wilde Tuna. All rights reserved.