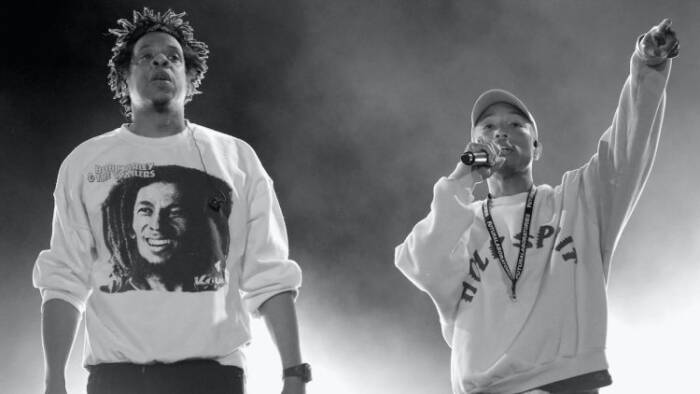 Created by the Neptunes, "Entrepreneur" drops tomorrow (Aug. 21).
JAY-Z and Pharrell are preparing to drop their new coordinated effort called "Entrepreneur" this Friday (Aug 21). The Neptunes-delivered track will be a piece of Pharrell's TIME Magazine spread bundle "The New American Revolution," which he depicted as "an exclusive issue of TIME Magazine that imagines a Black Future in an America where all individuals are really made equivalent." The prestigous collection highlights discussions with Tyler, the Creator, Angela Davis, Geoffrey Canada, Naomi Osaka and then some.
"The intention for a song was all about how tough it is to be an entrepreneur in our country to begin with," Pharrell told TIME on Thursday. "Especially as someone of color, there's a lot of systemic disadvantages and purposeful blockages. How can you get a fire started — or even the hope of an ember to start a fire — when you're starting at disadvantages with regards to healthcare, education and representation?"
The iconic producer likewise focused on financial empowerment as an apparatus to elevate Black people group.
"When you have successful beehive-type communities where you can circulate money within your community, it makes a huge difference," he said. "They keep saying the American Dream is about the house and picket fence, the wife and two kids. Come on—let's be honest. It's always boiled down to money and an opportunity."
The magazine portrays "Entrepreneur" as a "triumphant" tune and notes that Pharrell contributed vocals and production to the tune, alongside his Neptunes accomplice Chad Hugo.
"The song is trying to communicate that when we stick together, treat each other better and welcome each other, there's more money and more opportunity for everyone," Pharrell said.
JAY-Z and Pharrell as of late collaborated to claim justice for Danroy "DJ" Henry, a Black undergrad who was lethally shot by a white cop in 2010. The pair and others — including Rihanna, Taraji P. Henson, Odell Beckham Jr., Kerry Washington, Gabrielle Union and Mary J. Blige — composed a letter to US Attorney General William Barr encouraging the Department of Justice to resume Henry's case.
© 2020, Jonathan P-Wright. All rights reserved.