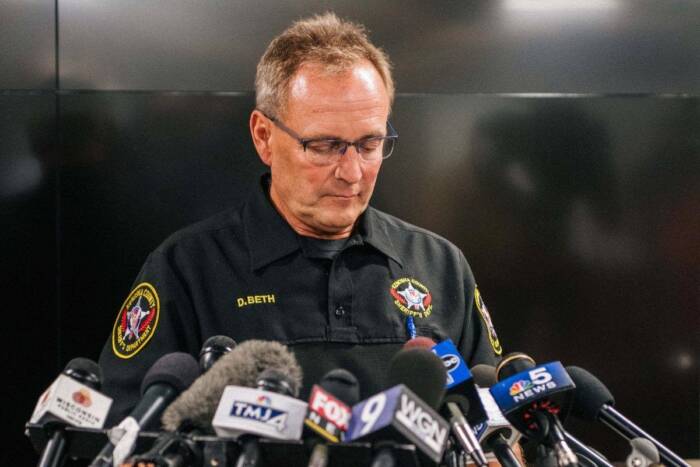 Last week, the police shooting of Jacob Blake, 29, in Kenosha, Washington, led to a strike by NBA players and people across the country raised many questions and concerns, as the victim was unarmed.
On Friday (Aug. 28), a press conference was held by law enforcement leaders in order to inform the public about updates on the case of Blake, who was shot seven times by a police officer as his children watched the event unfold.
The shooting was filmed by a bystander and it became viral very soon on social media. However, Kenosha County Sheriff David Beth has claimed that he did not see the footage.
"I did not see the video," he told reporters at the press conference, although a video surfaced online wherein he was viewing the footage on a phone via a social media platform.
He was then asked if he sees the problem, that he, as a top law enforcement official did not see the footage. However, he repeated the same answer.
"I'm sticking to the same thing I answered earlier," he reiterated. "Yes, I have not seen it."
The ACLU is asking Beth to resignation.
After many nights of unrest, Kenosha Police Chief Daniel Miskinis has revealed that close to 50 people were arrested, out of which, many were from other cities.
According to CBS 58, the Wisconsin National Guard has been positioned in Kenosha and soon, guard members from Arizona, Alabama and Michigan will also join them.
"I made the assessment that due to the situation here that we would be best served by having additional military police companies, which have additional training in civil disturbance and how to deal with that," Wisconsin's adjutant general, Maj. Gen. Paul Knapp, said.
Both the individuals- Beth and Miskinis – have stated that it is important for protestors to adhere to the 7 pm curfew.
Recently, Miskinis was criticized for stating that the violation of the curfew is the reason why two individuals lost their lives in the shooting carried out by 17-year-old gunman Kyle Rittenhouse.
"In no way was my comment earlier intended to suggest that being out after curfew that those persons played a role in their deaths," Miskinis clarified. "Tragically, lives were lost and a person was injured. That rests solely on the person who did that, not on the victims of this crime."
Currently, the Wisconsin Division of Criminal Investigation is investigating the shooting of Blake and Rusten Sheskey, the officer who was behind the gun, has been put on administrative leave.
Until Friday, Blake was handcuffed to his hospital bed. He is paralyzed from the waist down.
BREAKING: #Kenosha County Sheriff David Beth says he "did not see the video" of Jacob Blake being shot seven times.#Wisconsin

This clown needs to be fired, obviously he is willing to blatantly lie to our faces or he is completely incompetent. He has to go! #BlackLivesMatter pic.twitter.com/C8XABRh4q1

— Terrence Daniels (Captain 🍀 Planet) (@Terrence_STR) August 29, 2020
© 2020, Jonathan P-Wright. All rights reserved.