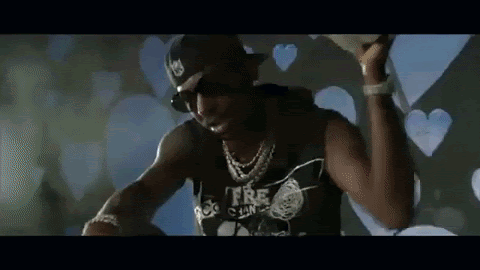 Anytime Young Dolph and Key Glock team up they showcase their inimitable chemistry, their humor, and of course, hard-hitting bars. In the video for "No Sense," the dynamic duo take you a step further into their world —  Young Dolphcozies up in front of his signature custom-wrapped camo Corvette Stingray while rapping about his other cars, "parked the 'Rari, jumped in the Challenger," and Key Glock asserts that he rocks Gucci and his "life is a movie," while he relaxes on a couch in a Gucci sweater, watching himself on screen in what I can only assume is the aforementioned movie.
"No Sense," comes from Rich Slave, Dolph's deeply personal and highly successful new album. Emphasizing his Memphis roots with Dirty South instrumentals, the album explores Dolph's rags to riches story, while taking time to reflect on the glass ceiling on the upward mobility of Black people; no amount of money allows you to escape racism as a Black person in this country. Featuring singles like the West Coast tribute "Death Row," the conversational "Blue Diamonds" (7.7 million views), and the Megan Thee Stallion-featuring riders' anthem "RNB," Rich Slave peaked at #4 on the Billboard 200 and hit #1 on Billboard's Independent Albums chart, selling over 65k units and generating over 44 million on-demand streams in its first week. Home to video singles "Cray Cray" (3.9 million views),  "What's Da Bizness" (1.8 million views) and "Hold Up Hold Up Hold Up" (5 million views) Rich Slave is available everywhere via Paper Route EMPIRE.
© 2020, Seth Barmash. All rights reserved.