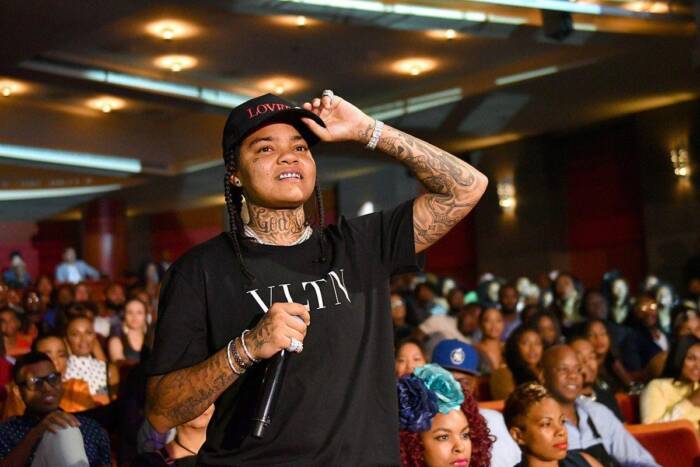 Young M.A's last project 'Red Flu' was released several months ago, which featured seven different tracks that helped her fans to sustain themselves during the Coronavirus pandemic. Last weekend, she released a new visual from the track for "Quarantine Party," a Mike Zombie-produced scene that showcases the Brooklyn emcee talking about how she prefers to like being stuck at home:
"She throwin' that ass, I'm throwin' this cash, she pick up the money, she throw in her bag, I'm tippin' her money, I'm throwin' a bag, still got a quarter mil' more in the stash/
Throwin' these ones, gang in this b***h and they holdin' they guns, if they ever get booked by the feds, I know they holdin' they tongue…/"
The video aligns with the theme of the track, as M.A. enjoys a pool party filled with women in a Versace robe. As the coronavirus pandemic is still severe, we hope that strict precautionary measures were undertaken during and after the making of the Marc Diamond-directed clip.
Red Flue is Young M.A.'s second album, after she debuted with LP Herstory In The Making, which was released last September and featured 21 tracks, and included appearances from Relle Bey and Max YB. Recently, she also provided assist for newly-minted XXL Freshman Fivio Foreign on his latest cut "Move Like A Boss."
Last month, Young M.A. initiated her new Apple music show "Me Always Radio," which, as officially described, allows her to "get up close and personal with fans as she talks through culture and current events and, of course, plays her favorite songs." In her first episode, Eminem made a guest appearance, and the theme revolved around the Detroit legend's history in hip hop, their collaboration on his latest album Music To Be Murdered By, and much more.
© 2020, Jonathan P-Wright. All rights reserved.