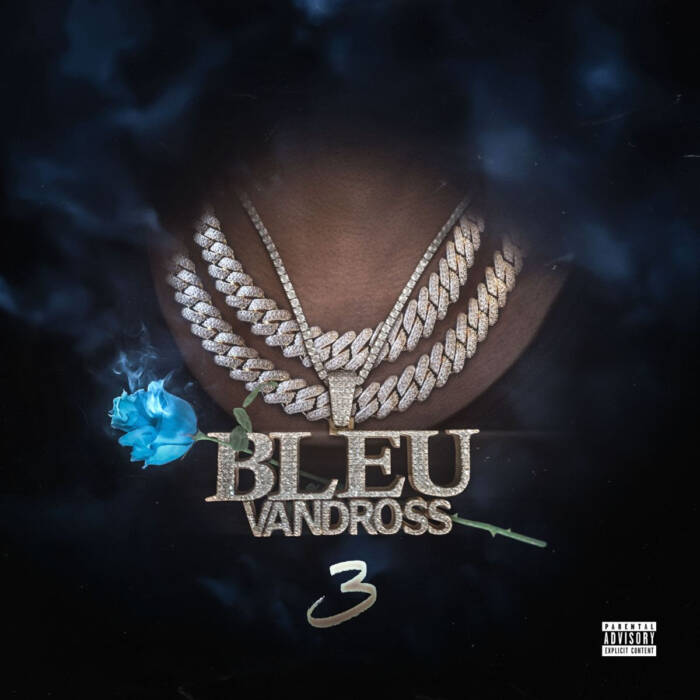 Mobile, AL-based rapper and singer Yung Bleu released his hard hitting new album Bleu Vandross 3 today via Vandross Music Group / EMPIRE. Representing a new wave of Southern hip hop, the album boasts features from a variety of dynamic talent, including Flo Milli and No Cap as well as Boosie Badazz, Yo Gotti, K Camp, and others.

Yung Bleu is celebrated for his smooth yet ominous rhyme schemes and dramatic, emotional lyricism. He's an accomplished independent and platinum selling artist whose massive hits include: "Miss It" (100M+ Streams), "Unappreciated" (75M+ Streams) and the Kevin Gates-assisted "Ice on My Baby" (75M+ Streams). Bleu Vandorss 3 is a continuation of his winning streak, featuring his already released singles "Don't Wanna Lose" featuring Brooklyn Love and "Running Out of Love", both having already racked up millions of streams each.

Yung Bleu is steadily approaching 1 billion streams (400M+ on YouTube, 350M+ on Apple Music, 100M+ on Spotify) due to his dedicated fanbase. Born in 1994, he began rapping at age 11, eventually going on to curate self-released mixtapes and the popular Investments series. The latest of these, Investments 6, dropped in 2019 and featured PnB Rock and Lil TJay, among others.

Please listen to Bleu Vandross 3 below and feel free to share the album stream or inquire about any other coverage opportunities.

Yung Bleu – Bleu Vandross 3
TRACK LISTING
01. Level 3 (feat. Boosie Badazz)
02. Come By at 12 (feat. Noby)
03. Catch a Breeze
04. Good (feat. Flo Milli & Yo Gotti)
05. Dead & Famous (feat. No Cap)
06. Time Heals (feat. Baby B)
07. Evertime I Blink (feat. Rylo Rodriguez)
08. Stars in Miami
09. Yeah Right (feat. K Camp)
10. Soul Cry
11. Don't Wanna Lose (feat. Brooklyn Love)
12. Get Slatted (feat. Xae Hardawae)
13. When Vell Died
14. Talk Shit (feat. MGM Lett & C-Nile)
15. Running Out of Love
16. Pretty Girls Cry (feat. Brandon Abner)
17. 50K for a Murder
Originating from Mobile, Alabama, Yung Bleu (born Jeremy Biddle, 1994) started rapping at age 11. However, he first got into the rap game and entered the public arena in the early 2010s after watching his brother interact with local hip hop circles. He self-released mixtapes like 2013's Hello World before eventually getting involved with Young Boss Entertainment, who helped the young artist release some of his early tracks to a broader audience. In the coming years, Yung Bleu produced an ongoing installment of mixtapes, titled Investments, Investments 2, Investments 3, and so on. In 2019, the rapper released the sixth and latest installment, Investments 6, with features from PnB Rock, Lil TJay, and more. During the mid-2010s, he developed a working relationship with Boosie Badazz, collaborating with him on several tracks and quickly landing a deal with Boosie's Columbia Records-affiliated imprint Badazz Music Syndicate. He broke out with the 2017 single "Miss It" (100M+ streams). This would set off a series of streaming hits like 2018's "Unappreciated" (75M+ streams) and the Kevin Gates-assisted "Ice on My Baby" (75M+ streams).
© 2020, Seth Barmash. All rights reserved.