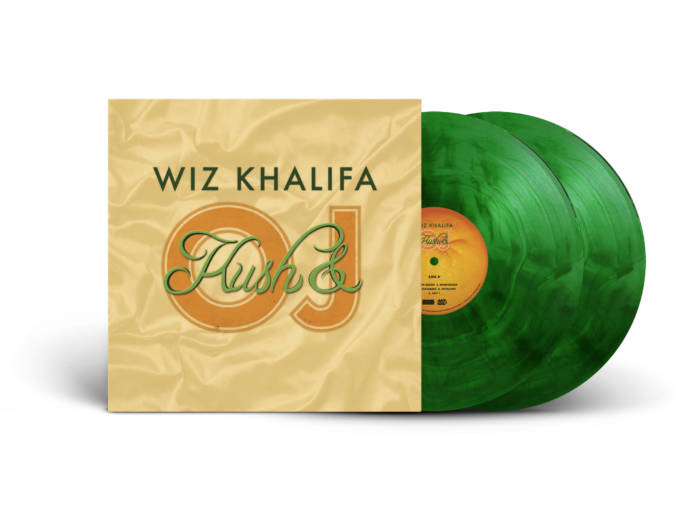 Today is officially the 10 year anniversary of Wiz Khalifa's iconic 2010 mixtape Kush & Orange Juice.  Wiz is partnering with Rostrum Records to release the mixtape on vinyl, marking its first-ever availability on a physical format (avail for pre-order here).
A few of his collaborators reflected on the mixtape:
"The sound of the project presented something refreshing to the music world and Wizzle Man being who he is made everyone look unique in their own way, from me to Sledgren, to Juliano. The project showed the world some fly shit and had the whole world up in smoke literally. It was such an honor to be a part of this timeless project, what a time this was for all of us. Happy 10 year anniversary Kush & OJ."
 — Cardo Got Wings

"'Glass House,' is a crowd favorite. We created a moment with that record, know what I'm saying? 2010, SXSW. It happened so organically and then wiz reached out like, 'Yo I wanna put this on Kush & Orange Juice,' and that was my first introduction to a lot of his fan base. Its been crazy since then — between going on tour and performing it every time we hit the stage together. That's what timeless music is all about. Because now, it's 2020, the 10 year anniversary and that record still goes up you feel me?"
— Big K.R.I.T.
"The release of Kush & Orange Juice was a watershed moment for Wiz's career and for the art of mixtapes in general. It was during the making of this tape that Wiz really hit his stride, and, to this day, it's one of the best albums that's ever been made. Kush & Orange Juice changed all of our lives, and it will always hold a special place in the history of hip hop."
— Benjy Grinberg (Rostrum Records Founder and President)
A melodic masterpiece featuring early-career contributions from the likes of Curren$y, Big K.R.I.T., Cardo Got Wingz, and others, 
Kush & Orange Juice 
was one of the first mixtapes to catch fire on social media, becoming a 
#1 trending topic
on Twitter and Google in the days after its release. Boasting fan-favorite Wiz tracks like "In The Cut" and "Mezmorized," the tape is among the most acclaimed and popular free mixtapes of all-time, earning Diamond status on DatPiff, and earning spots on Best-Ever Mixtape lists. The mixtape saw official release on DSPs and streaming services in November 2018 and is now officially 10 years old and a certified classic!
© 2020, Seth Barmash. All rights reserved.