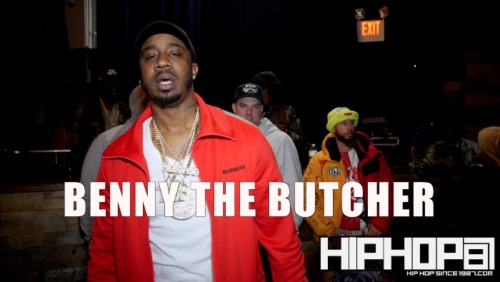 "The Butchers Coming!!"
This month, HipHopSince1987's own Rick Dange linked you with Benny The Butcher for an exclusive interview that touched on a lot of topics. Benny The Butcher talks about his grind and what it means to him to be representing Buffalo across the world. He goes into detail about previously not knowing if his formula for taking over rap would work in the 2020 climate that rap music is in, but feeling good that he has been successful sticking to being a lyrical artists versus a gimmick rapper.
Benny The Butcher then goes on to speak about some exciting things that he has in store for 2020, including 2 collabo albums. One with Harry Fraud and another with HitBoy. He also spoke about how he linked up with Russ to create some dope records, and talked about new music he has coming with Philly's own Meek Mill. He goes into detail about him & Meek working together and the love & respect he has for The Dream Chasers. Benny also talks about Drake giving him props in his recent interview with Elliott Wilson & BDot, and talks about the day the interview dropped.
Benny The Butcher isn't only a rapper, he's also a business man and the head of BSF. Benny talks about inking a deal for his BSF Label and speaks proudly about his artists and what's to come in 2020.
Before ending the interview, Benny tells a great story about Jay Z and the RocNation brunch, aswell as pays tribute to the late great Kobe Bryant.
Checkout this exclusive interview with Benny The Butcher NOW!
This interview was shot, edited, & conducted by Rick Dange
© 2020, RickDange. All rights reserved.